Here's Why We Are Your Best Option
Fast pre-booked delivery
High quality products, vast stock
No fake discounts, no gimmicks
Straightforward & honest advice
Best Delivery Options

Fast & Free Delivery to most of the UK

Established Over 20 Years

That's 2 decades of happy customers!
Kick Start Award
Table-Tennis-Tables.co.uk are delighted to have selected 12-year-old Diesel Harvey for their first 'Kick-Start Award'.
Our 'Kick-Start' sponsorship will run through this summer and into the 2016/17 season helping finance Diesel's training and equipment. Working with local coaches we aim to seek out a young Cadet player with great potential and the right attitude and offer sponsorship for a season.

Diesel is a member of the highly successful BATTS club in Harlow.
We will follow Diesel's progress throughout the season and hope to report lots of news relating to his training and competitions.

We are planning to make this an annual award to a different Cadet player each season.
Diesel Harvey Makes The Harlow Star
Diesel Harvey recently had a story written about him in the Harlow Star and we couldn't be more proud. He works so hard and loves playing table tennis so much that we fully agree with BATTS coach Josh Dye that Diesel is a "future champion".
Diesel Harvey Has Gone Up A League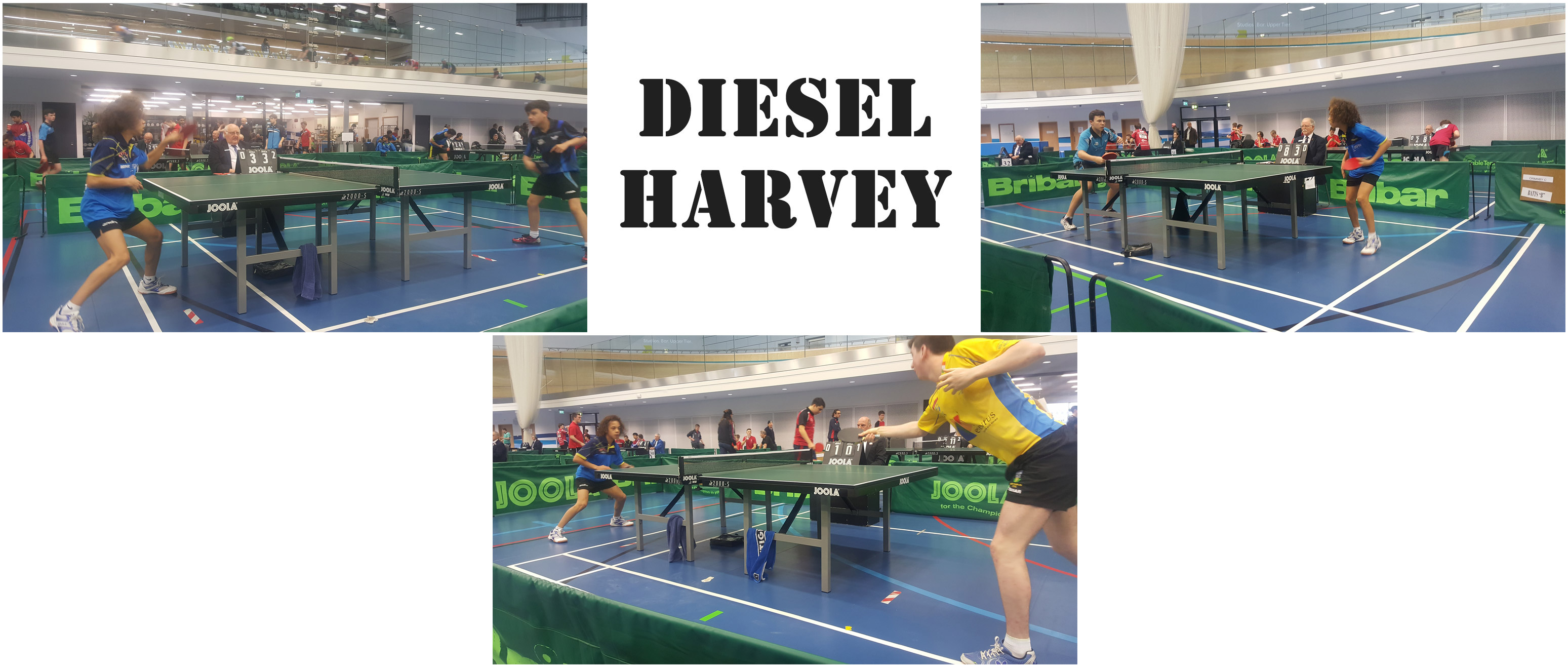 Diesel's been putting in a lot of effort and above are some photos of him at the JBL at Derby where he played extremely well, nearly getting over the line on a few occasions. His coach feels that it won't be long before all of his practice and hard work begin to pay off at this higher level.
Diesel Harvey Wins Against Joe Walker (England Junior no. 42)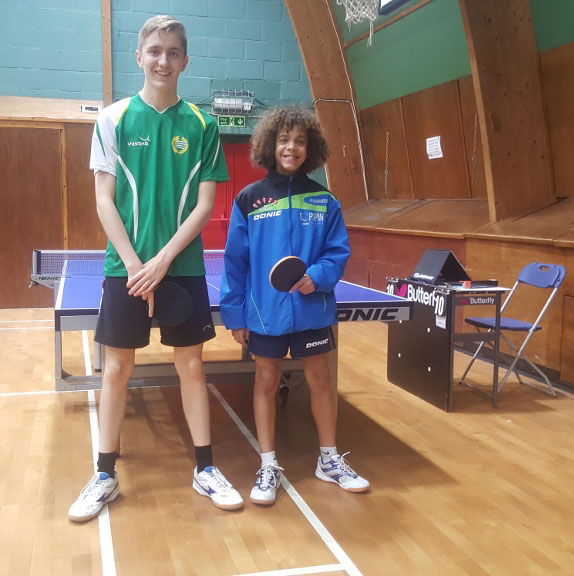 Diesel's progressing very well and his training is on track. His coach has told us that he has stepped up a couple of levels but so has the competition. Above are few photo's taken from the recent 'London Academy' tournament where Diesel made it through the group stages. Sadly he was defeated in a hard fought 5 setter but it must be noted that some of these players are pretty much full time Table Tennis students and have been playing Table Tennis from the moment they could sit up (well, nearly)!
As well as playing in the Harlow Premier league, Diesel also plays in a Tuesday night Singles League where his best win to date was against Joe Walker (England Junior no. 42) winning 2-1 (these are only 3 set matches). What makes this even more impressive is that Joe Walker managed to win a set on Darius Knight (England Men's no. 6) in a recent tournament held at Batts Harlow. Diesel and Joe can be seen in the photograph to the left.
In the words of his coach, "All in all Diesel is doing well but most of all he is still enjoying playing.... apart from when he loses. Then it can become a long drive home."
Diesel Harvey's 50% Win Rate in Harlow Premier League

Pictured above is Diesel playing in the Harlow Premier table tennis league. At 12 years old, Diesel is by far the youngest player presently playing in the Harlow Premier league, currently having a 50% win rate.
Diesel played in the Junior British League in Derby last month, once again being one of the youngest at the event. In the opinion of his table tennis coach Adam Nutland, the table tennis played at the meetings were of a very high standard and probably the highest level of opponents in which Diesel has played against. Although not managing any outright victories, there were a few 5 setters, which considering the field of play he felt was a good effort at this stage of his development.
Diesel also attended a 4 day training camp in Sweden with Adan Nutland (no. 12 England) and a few hopefuls, which he thoroughly enjoyed.
Diesels next tournament will be the Butterfly London Academy 2* Tournament. He still trains consistently both with the Batts 'A group' and singularly for a more intense session.
We are really excited to see how Diesel will continue to progress.
Our first 'Kick-Start Kid' is Diesel Harvey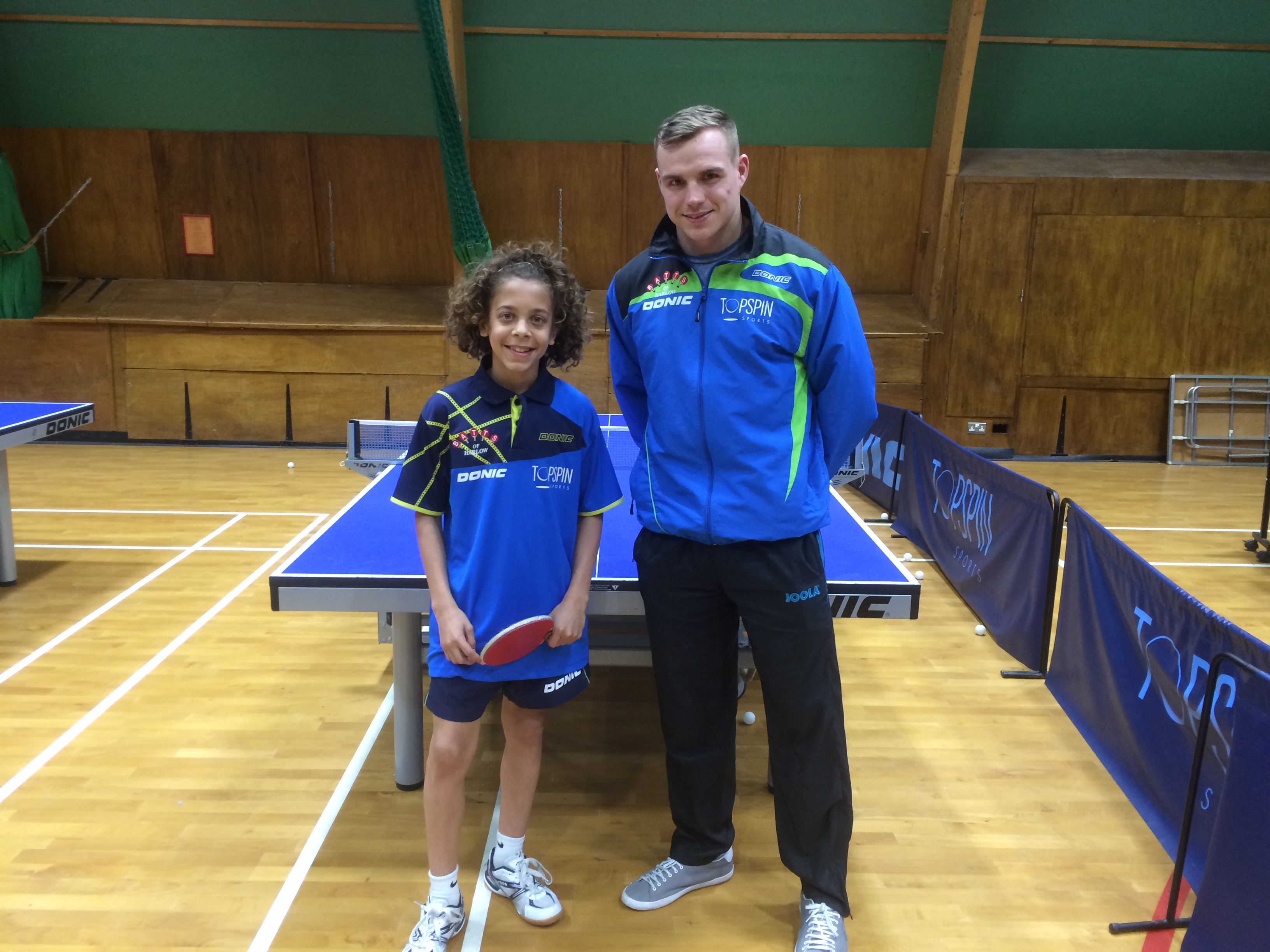 He's being coached by Adam Nutland, a top ranked British League player, so we're confident that we'll be seeing great things from Diesel in the future. We'll be following and reporting stories about his progress throughout the season and we hope that you're as excited to see how far this talented Cadet player will go as we are.