Here's Why We Are Your Best Option
Fast pre-booked delivery
High quality products, vast stock
No fake discounts, no gimmicks
Straightforward & honest advice
Best Delivery Options

Fast & Free Delivery to most of the UK

Established Over 20 Years

That's 2 decades of happy customers!
Parish Council & Community Centres
Why choose a table tennis table for your Community Centre or Parish Council.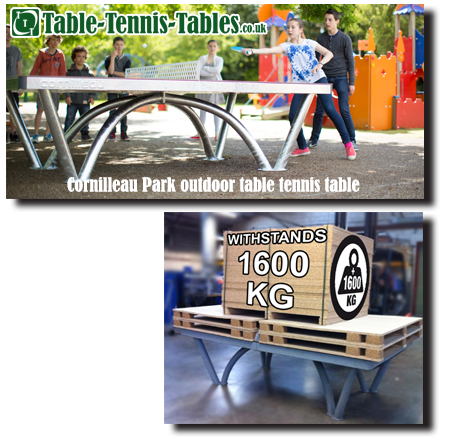 Fulfilling the needs of your community is often a difficult task. It can be hard to find an activity that appeals to a broad demographic, but table tennis does just that.
Table tennis appeals to one of the widest age ranges of any sport and can be enjoyed with little or no experience. This, coupled with the fact that most of our tables are wheelchair friendly, makes table tennis extremely inclusive. The positive health and social benefits of table tennis are well documented. It's not only great fun, it also provides low impact cardiovascular exercise and is proven to increase cognitive brain function.
Parish councils plan for a table tennis table – Information gathering
To save you time and to make sure you have all the information needed to answer any questions during your parish council discussions, we have provided printable PDFs below relating to the Cornilleau Park outdoor static table.
We have been through this part of the process many times with various parish clerks and councillors, so we have included all of the information that we have previously been asked for. The Cornilleau Park table tennis table is by far the most suitable for any unsupervised, outdoor environment within your Parish.
Parish council plan for a table tennis table – Aspects to be considered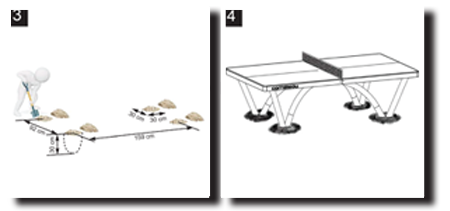 Between parish meetings it's common that either a councillor or parish clerk will research the best place for the table/s to be sited.
Common aspects to be considered are;
Ground underneath the table:
How to secure the table:

Both of these are easily answered; the tables are suitable for pretty much any 'reasonably' flat surface (it doesn't have to be perfectly flat as unlike snooker or table football it really doesn't affect the play quality as the ball is bouncing rather than rolling). This can be grass, concrete, bark or shingle.
As they weigh a massive 163kg, the majority of the Park tables we supply are just left freestanding. If you would prefer to secure the table, it can be bolted to the ground if it's on a concrete surface or if the feet are on concrete blocks. Alternatively, you can purchase optional sand trays which are fitted under the table tops increasing the weight to 400kgs (please note that 200kg of sand is required which we do not supply). If the table is to be sited on grass another option is ground anchors which are buried around a foot deep. Grow-through matting can be useful if the table is on grass. We suggest this is laid in the area where the players will move around. Ideally 4 feet back from the end of the table and around a foot wider than the table (this is not a product we supply but can be easily purchased online from matting specialists).

All of these options are laid out in the "Cornilleau Park outdoor static table PDF security options" above.


Parish Council's plan for a table tennis table. – Who to choose and why?
Established in 1998, we are the UK's leading independent table tennis table supplier. Over 40 Parish Councils, plus hundreds of schools, colleges and local authorities have chosen us for their table tennis equipment. Our prices are highly competitive and our delivery service is usually faster and more efficient than any other supplier in the UK.

If you require any further information or a formal quotation please call us on 01371 875000 or email [email protected]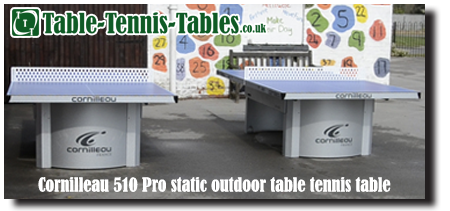 The Cornilleau Park is perfect for unsupervised areas and we strongly recommended it. However we understand that needs and budgets vary. If you are looking for a weatherproof table to be used in a more communal area and your budget cannot run to Cornilleau Park table then we would suggest considering the Cornilleau 510 Pro static outdoor table:

The 510 Pro is extremely popular with schools for use in their playgrounds and other multi-user enviroments. It's made to withstand fairly boistrous treatment, but not to the same extent as the Park table. If you feel your community would treat the table with a little more care than some, or if the table will be sited in an area that is reasonably well overlooked or monitored, then the 510 may well suit your needs.
See Cornilleaus videos for both the Cornilleau Park and the Cornilleau 510 pro static outdoor table tennis tables.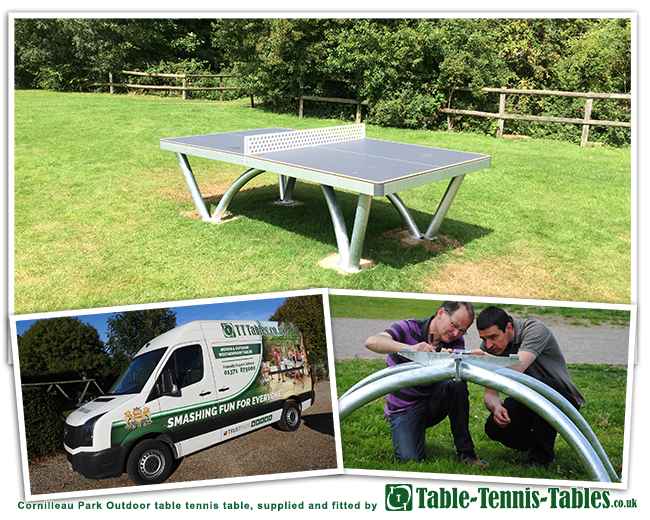 A case study on West Hanningfield Parish Councils table tennis table purchase.
We've seen a huge increase in the popularity of table tennis in parks and outdoor spaces. At first glance there are lots of tables that look like they may be suitable for permanent outdoor use in an unsupervised area, but in reality they rarely are. However as an independent specialist table tennis supplier we always recommend the right product for the location and desired use. During her time as clerk for West Hanningfield Parish Council Karen Kuderovitch purchased a table tennis table for their Village Hall.
West Hanningfield needed a table that could be left unsupervised, outside all year round, for many years.
Why a table tennis table?
"We surveyed local youth groups and asked local schools to get children to fill in a short questionnaire on what sports equipment they would like and a table tennis table was one of the most popular choices."
Why the Cornilleau Park Table?
(Many customers start off looking for a concrete table, or are concerned about how weatherproof the table will be)
"The Cornilleau Park table ticked all the boxes and looked pleasing to the eye".
Below are some of the Key Features that helped tick all the right boxes.
Strong Galvanised Steel Legs.
Galvanised Steel Net, coated in epoxy paint.
High resistance to shock and blows.
Can support 1.6 ton.
Table top is M2 burn resistant and the table is Non Flammable.
Can be secured to the floor by bolts or Ground anchors.
10-year table Guarantee.
Why us?
"Upon searching many companies we found the pricing at table-tennis-tables.co.uk to be most attractive. The before and after sales service was excellent. The Community are delighted with the table and it has been used by all ages and the local schools. "
Since installing a Cornilleau Park table tennis table for West Hanningfield Parish Council Karen has come back to us for two more tables for different Parishes.
Our prices are competitive, but we don't just rely on price. We have an 'EXCELLENT, 5 STAR' rating from over 4,300 Trustpilot reviews written by our customers. Trustpilot are widely regarded as the UKs leading independent review company.