Here's Why We Are Your Best Option
Fast pre-booked delivery
High quality products, vast stock
No fake discounts, no gimmicks
Straightforward & honest advice
Best Delivery Options

Fast & Free Delivery to most of the UK

Established Over 20 Years

That's 2 decades of happy customers!
Testimonials

To date Aldenham School have had 19 tables and numerous table tennis accessories, we are very grateful for their continued custom.
Daniel Hansen Purchasing & Contracts Manager for Aldenham School.
"The Aldenham Foundation has used Table-Tennis-Tables for the last 5 years as a preferred supplier for tables and accessories. The team are always a pleasure to deal with and the quality of service and communication is of the highest level. In a school such as ours with table tennis a favourite boarding activity and increasingly part of the academic program, it's imperative we can rely on the quality of goods and supply. We need robust tables that can withstand the rigors of daily use, and Table Tennis Tables supply top quality tables at excellent prices. Should we need repairs, the parts ordering and supply system is equally impressive."
Founded as a traditional boarding school in 1597, Aldenham today offers both Day, Boarding and Flexi-Boarding options for girls and boys on the same original glorious site with easy access to central London and all that the capital offers. Pupils are able to enjoy the best of both worlds; the wide open spaces allow room to breathe, without any feeling of isolation. It really is an ideal location where both boys and girls can enjoy continuity of education from 3-18 years all on the same site.
Cornilleau Park Tables for St Bartholomew's Schools.
After delivering and assembling two Cornilleau Park outdoor table tennis tables at St Bartholomews C of E School we were very happy to receive a collection of comments about the tables from pupils and staff, along an exert from their school newsletter.
SPORTY ST BART'S!
Our two new outdoor table tennis tables arrived at the end of last week. The tables were officially opened by Mr Avenell challenging Mrs Hope-Gill for the first game. Mrs Curry then took on the winner. Mrs Curry showed her amazing skills and won against Mr Avenell! The children started using them on Monday lunchtime and they are proving a huge success. We would like to say thank you to the POB'S who have funded this addition to our playground provision.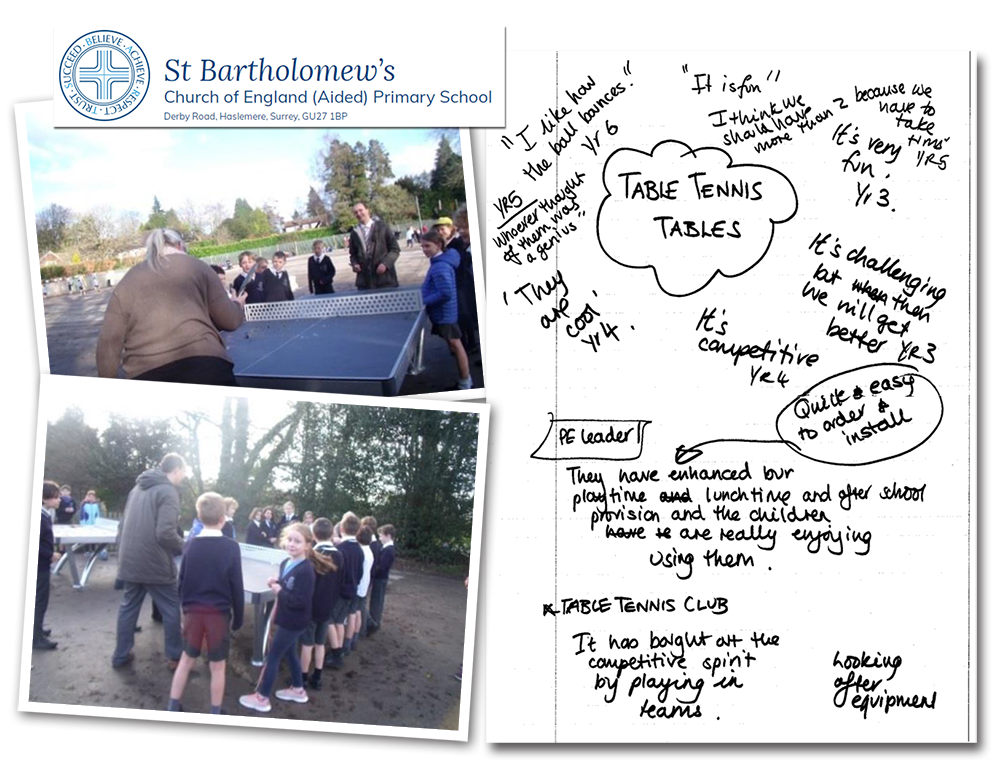 Outdoor Table Tennis at Farnham Heath End School
We had the pleasure of supplying 4 Cornilleau 510 pro static outdoor tables to Farnham Heath End School, having 2 blue and 2 grey tables to match their school colours.
Principal Stuart Maginnis has ambitious plans for the school;
"I want to ensure that all young people that attend this school have the best all round education".

"My vision is to provide a world class educational experience"
He also had these kind words to say about our service and the equipment we provided;

"We have been delighted with the service from table-tennis-tables, the pre purchase advice was invaluable and honest. Our estates team were able to build and secure the tables with ease. Since the tables have been purchased the students and staff have loved using them. In a recent OfSTED inspection, it was mentioned what a calm and happy environment they have created."

Stuart Maginnis Principal

Farnham Heath End is one of five schools in the Weydon Multi Academy Trust. Their vision and values are to provide an Inspiring Educational Experience for all students which is beyond their expectations and therefore forms the foundation of a happy and fulfilled life.
Reigate Roystons Table Tennis Club

We were contacted by the new management of Reigate Roystons table tennis club looking to replace their old tables. They had a clear understanding of what they needed from the new tables, which lead them to the Cornilleau 740 competition table. After a few discussions regarding the specification of the table, we arranged to delivery and assemble the tables.



Peter Buckell had this to say…..
"I have recently taken over Reigate Roystons, a "pay as you play" Table Tennis Club based in School premises. There were 9 Donic tables which had been in use for 17 years and despite ongoing maintenance were at the end of their useful life. The criteria for replacement tables included one-man operation putting up and taking down and robustness as they were being used by the School 5 days a week during the winter term as well as on Club nights. They also had to be suitable for competitive league play as they would be used for the annual local Reigate, Redhill and District TTL Championships. After extensive study of the tables available that fulfilled the above the Cornilleau 740 tables were chosen as they gave the best value for money whilst fulfilling the above criteria. The Table-Tennis-Tables.co.uk website gave full and unbiased information on these tables and therefore I chose to buy from them.
From initial contact through to deliver the staff at TT Tables were positive and responsive. The Sales Manager answered all my questions promptly, he also made efforts to locate Cornilleau 740 tables in use near me so I could talk with current users. As these were in schools it proved impractical to see them being used; however it did endorse the fact that they were used extensively for one of the purposes intended. I threw them a bit of a curved ball when I asked them if they could be assembled after we had agreed a delivery date (each table takes approx. 90 mins to assemble and I had ordered 9) However they solved this conundrum by preassembling 4 tables leaving 5 to be assembled on site.
The Sales staff kept me up to date with delivery times of both types of tables. On the day both deliveries arrived within the allotted time period. All the personnel were competent and friendly. One of them double checked the pre-assembled tables to ensure no problems emerged after they left.
Overall I would have no hesitation in recommending Table Tennis Tables as from start to finish the whole purchasing and delivery operation went very smoothly."
We were delighted with Peter's comments, pleased to able to help and grateful for his custom. The team at table-tennis-tables.co.uk wish the whole club the best for the future.
Kings Road Primary School's Testimonial

Kings Road Primary School's Testimonial
Kings Road Primary is a fabulous school in Chelmsford that prides itself on its holistic approach, serving not just the individual child but their entire family, and the community as a whole. They've created a safe, happy environment where their students are encouraged to develop and expand core values such as respect, responsibility, courage and honesty as well as thriving and excelling both academically and in a wide range of extracurricular activities.
One of the sports that has become incredibly popular is table tennis and we've been lucky enough to have been a part of its expansion within the school. Kings Road Primary recently purchased a couple of outdoor static table tennis tables and very kindly gave the following testimonial:
Recently our school got two table tennis tables and playtime has never been the same! Now we can have tons of fun and can always be sure that there is something to do. Frances, a girl in year 6, is always playing table tennis - she quoted "It's epic!!!" That's got to mean something. Even the boys are loving it! Altay stated "It's really cool, normally I get bored but now with the table tennis I don't." Another boy, Henry, said... "I'm loving it!!!" All positive!
These blue wonders are a big thing this year. It encourages children to be sporty but have fun at the same time. We even know quite a few people who have started to play table tennis outside of school. The pupils at our school greatly appreciate this new equipment and wouldn't swap it for the world...we think???
Some quotes from the students and teachers at our school:
Harley: "Normally us boys just sit around all lunch with nothing to do but now with the table tennis we are having the best time!"
Mrs Webb: "I saw a group of year 5 boys playing table tennis yesterday lunchtime, they were having a great time taking it in turns. And that's a first!!!"
Thank you ... We're loving it!!!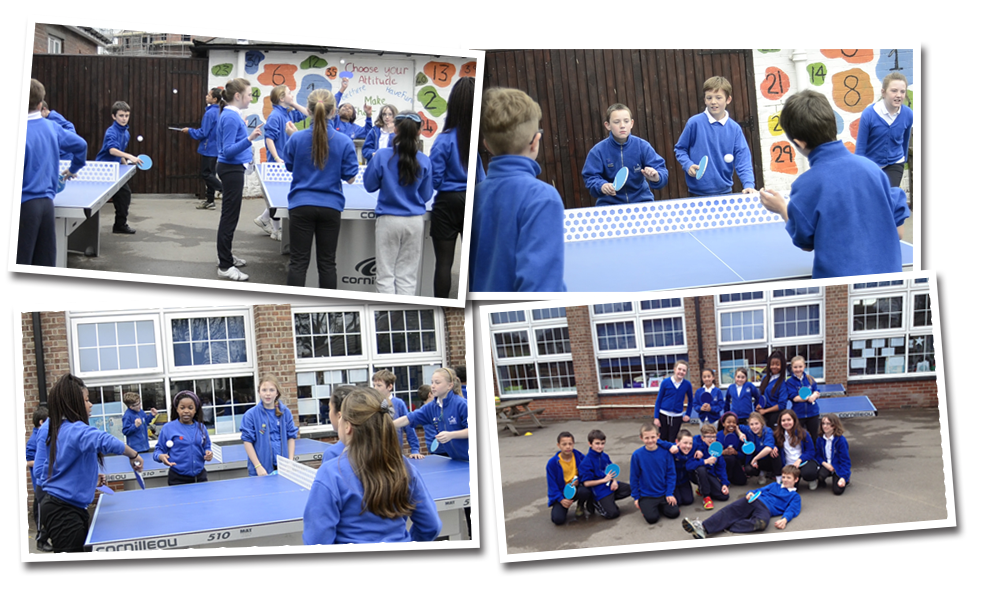 Southborough High School's Testimonial

Southborough High School's Testimonial
Southborough High School is one of the Surrey based schools that we've had the pleasure of supplying tables to over the years. They've very kindly written the following testimonial:
"We have been buying table tennis tables from tabletennistables.co.uk for the last few years and have always found the quality and price of the tables to be exceptional. The tables are perfect for school use and the choice and variety of tables is brilliant. We have several outdoor tables and lots of indoor tables. The outdoor tables are still in fantastic condition after about 2 years (and this is not down to the pupils treating them well) showing the quality of the tables. The indoor tables are used on a daily basis and the folding mechanisms are still in excellent condition. The company itself have always been incredibly helpful and their expertise in the area is second to none. They have always provided me with great advice and the tables they have recommended have always been well worth the money.
We have raised money to buy our last two indoor tables through our parent association. They have run cake sales and put on events for parents after school. This has produced enough on a yearly basis for us to update all of our outdated table tennis equipment.
Currently we have 2 classes of GCSE students who are choosing table tennis as their assessed practical activity. We also run 2 lunchtime table tennis clubs that are always full."
James Colbert
PE Teacher
Assistant Head of 6th Form
Southborough High School
Southborough High School is dedicated to inspiring their students both academically and with extracurricular activities. They aim to develop and sustain a happy, stable community which provides the perfect learning environment for their students. They encourage theirs pupils to improve and excel in P.E. and sport, and we're delighted to be able to have a hand in helping achieve this.

Testimonial from King Edward Grammar School
King Edward VI Grammar School (affectionately known locally as KEGS) has been a regular customer of ours since 2004. They've found that table tennis has become incredibly popular with their students over years and the interest is continuing to grow all the time. We recently visited to KEGS and saw a couple of their students warming up prior to a training session. We were very impressed with their table tennis setup.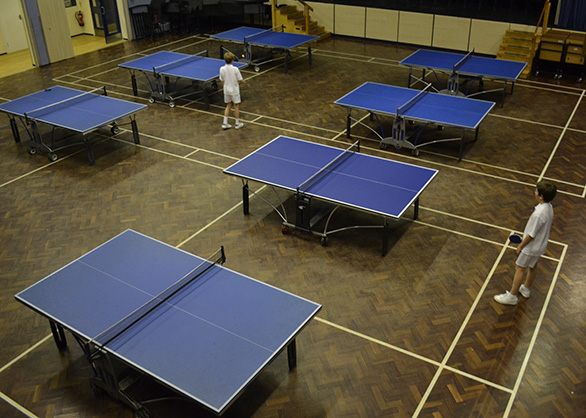 The staff at KEGS very kindly gave the following feedback:
"We have been really pleased with both the tables and service we've recieved from table-tennis-tables.co.uk. Their tables are great quality and good value, simple to operate and easy to store. The yearly service works well, and replacement parts have been quick and easy to obtain."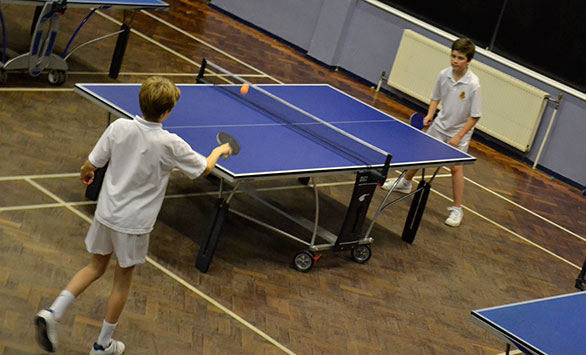 This was the turnout to KEGs first table tennis club: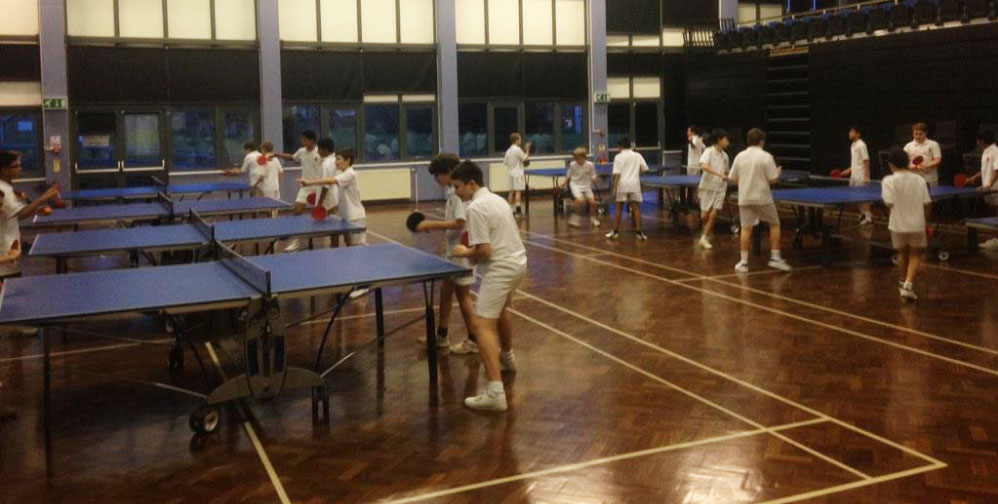 KEGS is one of England's leading grammar schools with a history that dates back to 1551. Its glowing reputation is built on sustained outstanding exam results and the development of their pupil's personal talents and skills. As you'd expect from such a prestigious school, they take their sports very seriously. From expert teaching and coaching through to excellent facilities, and table tennis is no exception.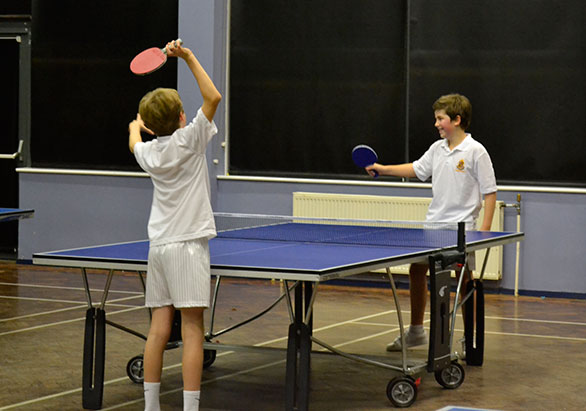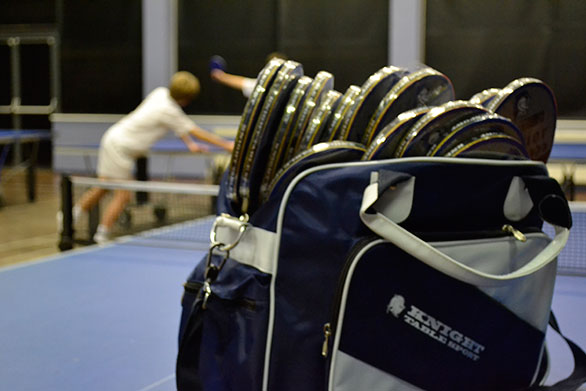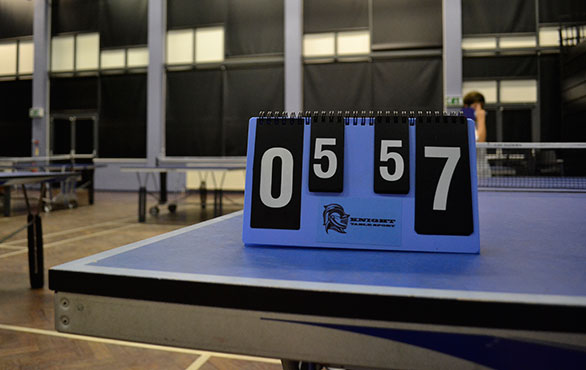 Testimonial from Millfield School

Since 2002 Millfield School have bought tables tennis equipment from us in both the indoor and outdoor range.

Deputy Bursar at Millfield School, Mike Craig
"Millfield School chose table-tennis-tables.co.uk as the supplier of its table tennis tables on the basis of quality, price, service and delivery. We have a number of boarding houses, which, during term time, are home to our pupils. Entertainment and relaxation are as much a part of school life as the lessons, and providing games and equipment to fulfil this part of their lives is an important consideration. We have purchased indoor table tennis tables from table-tennis-tables.co.uk, which are usually located in a recreation room or common room within the boarding house. In addition to this, a large number of the houses have also requested outdoor table tennis tables; a result of our recent good weather during the spring, summer and early autumn. The table tennis tables need to be robust, to withstand regular and fairly heavy use, and all of the tables purchased from table-tennis-tables.co.uk have delivered on the promise of longevity and service ability within this environment. Millfield School is likely to continue to purchase from table-tennis-tables.co.uk, as the whole package of product, quality, delivery and service meets its requirements fully."
Millfield school was founded in 1935 it has a fine campus of 166 acres. It is in beautiful countryside, with 18 boarding houses in the town of Street and surrounding villages. Facilities include an Olympic-size swimming pool, theatre, fine arts complex, indoor tennis centre and equestrian centre. It caters for virtually every need and displays energy, organisation and purposefulness in every activity. Over 40 sports and games are available and the school has excelled in many. Over the years, it has produced over 50 Olympic competitors.
Testimonial from Lenzie Academy

Lenzie Academy is a Scottish school that has recently bought fifteen Gallant Knight I-S12 table tennis tables and started a table tennis club for their students. This has already been a huge success as you can see from the photographs below. The head of P.E. very kindly gave the following testimonial:

"I resourced numerous companies and have been delighted with the service provided by Table Tennis Tables. They were very informative in helping me decide on the best product for our school, and offered a very competitive price that could not be matched."

"The quality of the table playing surface is perfect for school level and the equipment is of a great quality. What I am particularly pleased with is how robust the tables are, which is essential for a PE department. They fold away very easily and fit neatly together for minimum storage. I purchased 15 tables -they fold away in minutes into a neat space in our assembly hall."

"I would strongly recommend Table Tennis Tables for their quality of service, their competitive price and the quality of the product"

Russell Imrie
Principal Teacher of Physical Education
Lenzie Academy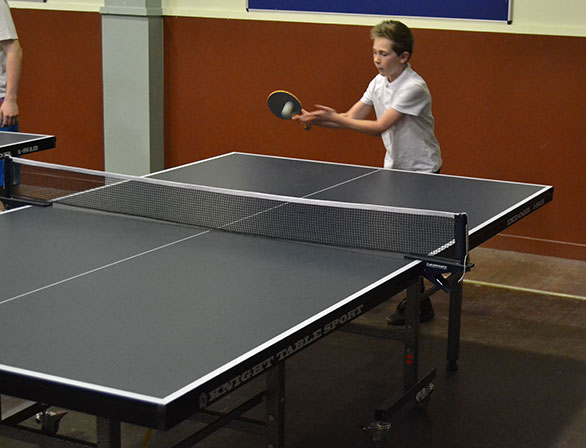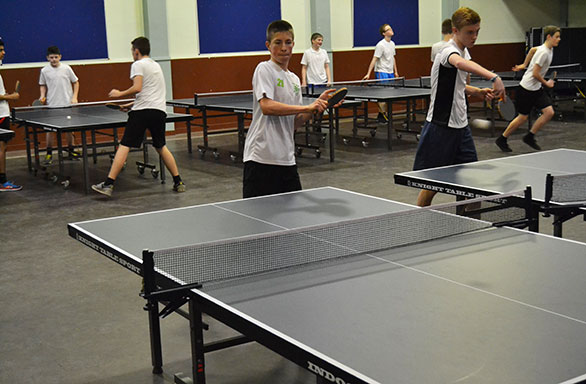 Lenzie Academy takes great pride in their facilities and their students, striving to always maximise their potential both academically and in extracurricular activities. Founded in 1886, they have educated children for many years and the most recent addition to their campus was a games hall complex in August 2000. This allowed them to accommodate a number in the region of 1400 pupils.