Here's Why We Are Your Best Option
Fast pre-booked delivery
High quality products, vast stock
No fake discounts, no gimmicks
Straightforward & honest advice
Best Delivery Options

Fast & Free Delivery to most of the UK

Established Over 20 Years

That's 2 decades of happy customers!
Cornilleau Indoor Table Tennis Table
CORNILLEAU INDOOR TABLES: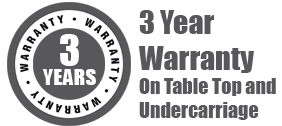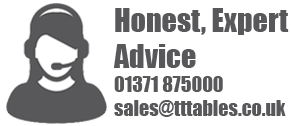 All Cornilleau indoor tables are guaranteed for 3 years on both the table top and undercarriage and delivery is FREE to most of the UK.

Cornilleau tables are manufactured using high quality materials and processes. The folding mechanism on the majority of their indoor table tennis tables is incredibly safe and easy for even children to operate. We have no hesitation recommending Cornilleau to both serious enthusiasts and hobby players as their tables range from entry level to ITTF competition standard.

Table Tennis is the world's biggest indoor participation sport, enjoyed by all ages and abilities, which is why Cornilleau manufacture a wide range of tables to suit every level of play.

Please bear in mind that indoor tables are designed for use in a heated, insulated building. If you are planning on using the table in direct sunlight or storing it in an outbuilding or garage we would suggest you purchase a table from our range of outdoor tables which are specifically designed for this purpose.

If you are having trouble choosing which table is right for you, and would like some advice, please call us on 01371 875000 or e-mail [email protected] and weíll be more than happy to help.
Cornilleau Company Information and History

Cornilleau have been manufacturing table tennis tables since 1968 and is the one of the most popular brands for outdoor table tennis tables. Cornilleau manufacture tables for all levels - from hobby tables for recreational use up to ITTF approved competition tables. All Cornilleau tables benefit from long guarantees (though they are almost never needed).
Cornilleau always strive to improve their products, paying particular attention to safety, quality of play, design and practicality. Thatís not forgetting the modern look that make Cornilleau tables so popular. The revolutionary design of Cornilleau table tennis tables have set extremely high standards for other table manufacturers and while many of the other brands now boast extremely similar folding systems, Cornilleau set the trend. Cornilleau also pioneered the development of an entirely new and revolutionary table folding concept ('COMPACT' Technology) which combines ergonomics and safety with design.
Commercial Director Michel Zany -
"Sport is ever progressing. This is why we must continuously improve the performance of our products. With this goal in mind, Cornilleau have developed a new collection of table tennis tables to meet the very highest standards, offering you what you have a right to expect today: quality of play, comfort of use, safety, solidity and design. Cornilleau are convinced that their tables will be in high demand due to their undeniable superior technical features."
DSI Technology - Cornilleauís Safe Folding System
The DSI folding system allows you to automatically lock the table in complete safety even on uneven surfaces (lawn, sand, cobblestone, etc.) thanks to the four safety bolts, 8 locking points in the playing position and 8 locking points in the storage position. The DSI folding system makes Cornilleau tables easy to open and close by one person, thanks to the unlocking mechanism with its ergonomic handle.
Compact Technology
Cornilleauí s COMPACT TECHNOLOGY decreases the risk of the table tennis table tilting and eliminates the possibility of a child getting in between the panels when itís folded.
Push 'n' Lock
(found on the Cornilleau Sport One and Sport 200M)
The Push 'n' Lock system, used on some Cornilleau entry-level tables, is an easy lock tabletop system with buttons placed on both sides of the table.
SkilTop Technology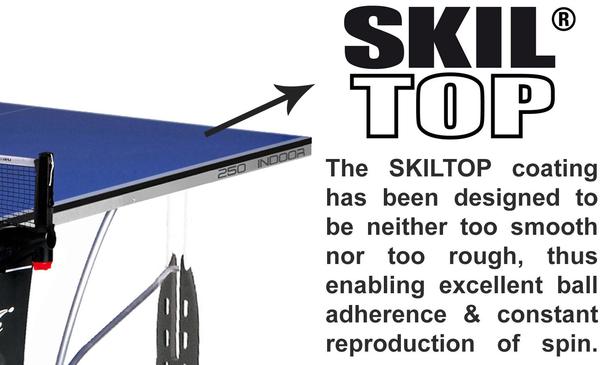 Thanks to a quality treatment, we have created strong table tops, offering a high-quality surface, long-lasting as well as asthetic.
1- High Density 3-layer Wooden chipboard
2- Acrylic coating + sanding
3- UV acrylic lacquer
4- Polyurethane lacquer
5- UV acrylic ink
Cornilleau tables with the SKILTOP are:
Cornilleau 540 Competition indoor table
Cornilleau 610 Competition indoor table
Cornilleau 640 Competition indoor table
Cornilleau 740 Competition indoor table
Cornilleau 850 Competition indoor table
THE HISTORY OF Cornilleau
The original business: carpentry and cabinet making
1946 :
Emile Cornilleau set up a joinery workshop in an old agricultural building, situated at the side of the main road in Bonneuil les Eaux in the Oise region. The company undertook significant post-war reconstruction work in Breteuil and in the local villages.
1960 : Pierre Cornilleau (son of Emile) joined the family business after studying at the technical college in Beauvais. He was in charge of significant construction sites, which were often far away, and quickly demonstrated a capacity for procedure and organisation. Further to the building work, the company added high-volume industrial production to its business (bottle crates, specific pallets for the car industry, casing for the aviation industry, racks for drying tiles). The company developed each year and reached a total of 20 employees by the end of the 1960s.
A New Business is Born

1968 : A neighbouring company, Cotexunion, manufacturing garden frames and PVC cupboards, was approached by a large French trading group to supply table tennis tables. This company involved Cornilleau, who thoroughly researched this project. During this period, the building business was showing certain signs of slowing down and Pierre Cornilleau wished to develop towards an industrial business. Despite his advancing age, Emile Cornilleau placed his trust in the energy and ambition of his son and decided to join the venture. The company Cotexunion would supply the steel bases and Cornilleau would provide the surface, the conditioning and the marketing.

1969 : Cornilleau manufactured its first 300 table tennis tables and participated in the first sports trade show. Cornilleau rapidly gained new customers and began significant investment (50% of the turnover at the time), both in terms of industrial buildings and machinery for the treatment of the playing surface. Pierre and Emile Cornilleau understood very quickly that the success of this operation depended on the design of a specific industrial process allowing reduced costs and large volumes.

1970 : The small company became established as a public limited company. The original business stopped completely and was replaced by the table tennis table business.

1979 : Pierre Cornilleau undertook the general management of the company.

1969- 1980 : Cornilleau gained a significant place in the table tennis table market, offering excellent value for money products , competing with the market leader Donnay. Initially the company's main customers were the large hypermarket chains (80%), enabling it to produce very large quantities and to develop industrially. Gradually sports shops and mail order chains became interested in Cornilleau despite a lack of brand image. The continuous improvements in quality, the reduction in costs and a capacity to adapt to the needs of the market gave Cornilleau a major advantage.
Cornilleau: French market leader

1981 : A sponsorship contract was signed with the great French champion Jacques Secretin. A serious partnership was established and as a result of this a range of competition tables was launched. The Champion signed each table and the brand image of Cornilleau started to take off.

1985 : Cornilleau became the leader of the French market and decided to develop its brand within European markets. This decision forced the company to invest in essential equipment for automatic treatment of the playing surface. The general quality of products was increasingly reviewed in order to respond to the needs of the European markets.
5 Table models were approved by the International Table Tennis Federation (ITTF).
The company participated in its first European trade show at ISPO (Munich) along with the main European competitors.

1988 : Cornilleau invented the concept of the outdoor table tennis table in solid laminate. Later the company began to use advanced technology by investing in a sophisticated panel machining. Table tennis became a competitive Olympic sport, during the Olympic games in Seoul, Korea.

Cornilleau: moving towards brand status

1992 : Cornilleau appointed a sales director, Michel Zany, whose assignment was to bring a sales and marketing edge to the company and to develop sales within the export markets.
1993 : A sponsorship contract was signed with Jean Philippe Gatien, Olympic Vice Champion in Barcelona, who became the World Champion two months later.
1995 : Cornilleau entered into a new strategic stage with the development of an entirely revolutionary table folding concept 'COMPACT Technology', combining ergonomics, safety and design. Thanks to this innovation, Cornilleau took on a new commercial status in the sports market.
Cornilleau: A global range with major international ambition

1998 : The company appointed an export sales Manager with the goal of becoming the European market leader.
2000 : Cornilleau diversified and strengthened its recognised position by launching a complete range of bats, balls and accessories in association with the champion Jean Philippe Gatien. The aim of this product launch was to offer a global range of table tennis items and to increase brand visibility.
2002 : Cornilleau carried out the re-engineering of its range of tables achieving significant technical benefits particularly in terms of safety and produced a highly innovative design. A Cornilleau table was nominated for the Observeur design competition (PARIS). At the same time, Cornilleau carried out a complete re-launch of its visual identity through a new logo, new packaging and new communication media.

2003 : Cornilleau began an intensive marketing campaign through its participation in the European Championships in Italy as an official tables sponsor and through a brand promotional exhibition stand at the World Championships in Paris Bercy.
2004 : Cornilleau takes on the American market and participated in the international trade show 'The Supershow' in Orlando.
2005 : Cornilleau teamed up with Michelin to create the 'Tacteo', a revolutionary leisure bat made with a 100% polymer and elastomer base.
2006 : Consolidation of international expansion on the strength of its leading position in the European market,
Cornilleau has continued its worldwide growth, intensifying its development in the United States, Russia and the Middle East.
2007 : At the highest level Cornilleau was the official sponsor of the World Team Cup in Germany, where the world's eight best teams clashed.
2010 : When Sport England wanted to host the Ping! London event, Cornilleau was the company they went to for high-quality and durable outdoor tables.