Table Tennis In Schools

Our school website:
We've created a website that is specifically suited to the needs of schools, colleges, clubs and youth centres. Here we offer automatic account facilities to schools, colleges and universities, as well as offering discounts on multi-buy table and accessories. We've been supplying table tennis equipment since 1998 and deal with thousands of schools, college and clubs throughout the UK.
To visit this specialist website please click here.
Ordering Procedure for Schools:
We are the UK's largest independent supplier of table tennis tables, supplying literally hundreds of schools throughout the UK. Our extensive customer base has been built over many years by selling high quality, durable tables, backed up with first class after-sales service.
We've a wealth of knowledge and experience when it comes to recommending the right table for your environment. Please call 01371 875000 for friendly, expert advice or for a highly competitive quotation on multiple table orders.
We extend automatic credit facilities to schools; orders can be placed online, over the phone, emailed or even faxed.
Advantages of choosing table-tennis-tables.co.uk:
An established table tennis specialist
Hundreds of tables in stock
We offer a fast, efficient ''two-man'' delivery service
Highly competitive prices
Excellent advice and first class aftercare service
Experts on hand to help you choose the right tables and accessories.
We have sold tables to schools throughout the UK for many years
Table tennis worldwide:
Table tennis has become the world's largest participation sport, with 40 million competitive players worldwide and countless others playing recreationally. It is popular because regardless of age and ability anybody can play.
Table tennis is the perfect inclusive sport for schools where a wide range of athletic ability exists in any year group. The core skills involved, such as hand eye co-ordination, concentration and body positioning, are skills that are important in most other sports.
At Table-tennis-tables.co.uk we understand that a school has several important issues to consider when choosing the right sports equipment.
Safety
Robustness / Quality
Ease of use
Cost
Choosing the right table:
We supply tables from lots of different manufacturers and for indoor use the most popular two brands by far with schools are Gallant Knight and Cornilleau. Both make their tables to very high standards and create strong, lasting table tennis tables with a very good play quality. A couple of examples are as follows: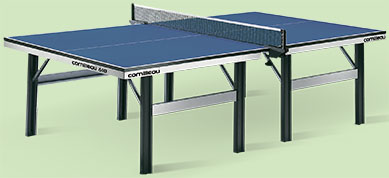 The Cornilleau outdoor table tennis tables are the most popular outdoor table for school use by an extremely long way. We sell hundreds of these tables into schools, colleges and universities. Their outdoor tables are incredibly well-made with a robust top and frame, steel net, as well as being fully weatherproof. They are also much more competitively priced than a concrete table, but perform an almost identical function.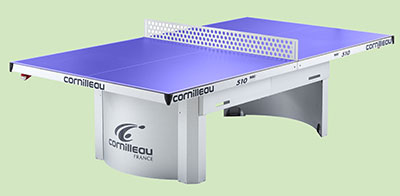 Gallant Knight's indoor tables have been designed with schools in mind. They are extremely strong, durable, offer an excellent play quality and they're very easy to put up and down. The tables also take up much less room when stored away than most of the other manufacturers, making them incredibly popular. With levellers on every leg they can be quickly and easily adjusted to suit you and the brakes on each wheel keeps the table secure when needed.

The Gallant Knight tables are also incredibly competitively priced, making them the perfect choice for schools who want to purchase multiple tables on a budget without compromising on the quality of the tables.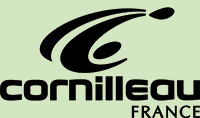 Cornilleau tables have a very unique opening mechanism which makes them much safer for youngsters to use. They also have a low centre of gravity (due to the fact Cornilleau tables are lower to the ground when folded) and solid wheel base which makes them easy and safe to move as well.
Cornilleau produce tables right up to the International Table Tennis Federations competition standard, so you will not be compromising play quality for safety.
Cornilleau Commercial Director Michel Zany
"Sport is ever progressing. This is why we must continuously improve the performance of our products. With this goal in mind, Cornilleau have developed a new collection of table tennis tables to meet the very highest standards, offering you what you have a right to expect today: quality of play, ease of use, safety, solidity and design."
Compact Technology
Every day, Cornilleau engineers are researching and developing systems to further reduce the risk of accident: the COMPACT TECHNOLOGY® Folding System decreasing the risk of tilting and eliminates the possibility of a child getting in between the panels.