Cornilleau Competition 850 ITTF Wood Indoor Table Tennis Table
£975.00
In Stock

Why Us?
Watch Our Video

Cornilleau Competition 850 ITTF Wood Indoor Table Tennis Table
£975.00
In Stock

Why Us?
Watch Our Video
Add Accessory Set
For Just £29.99
click for details
Would you like us to set it up for you?
Enter your details and we will get back to you
Pro review
Originally founded as a joinery in 1946, Cornilleau have now called upon their significant woodworking history to produce this fabulous table.
The stunning 850 stands out in the market for its contemporary design, unrivalled sound and excellent play quality. Equally at home as a stylish centrepiece in a residential property or in a serious club or corporate environment.
The Cornilleau 850 Wood is available with either a grey or a blue surface (both ITTF approved for competition use).
Benefiting from Cornilleau's DSI folding system, the 850 Wood can safely be opened and closed by one person in a matter of seconds. The net posts automatically fold away between the tops to protect in when in the storage position.
As you would expect from Cornilleau's flagship table, the strength is unrivaled, the wheels are first class and the play quality is exceptional.
The net & post set is an integral part of the table, although some retailers claim they are giving this as a free accessory!
Warranty:
3 year guarantee on all non-wearing parts (excl. wheels, net and posts, bats, cover etc.)
Want to know more about Cornilleau? Click Here

How to pronounce Cornilleau: "Corn-ee-oh"
Cornilleau have certainly raised the bar with the Competition ITTF 850 Wood.
Delivery
Important: If you pop your postcode in the box above marked, 'Check Delivery In Your Area', you'll be shown the availability and delivery timescales for your address for each model and colour option.
Please note that delivery areas & timescales can vary depending on the model & colour you choose (e.g. one model or colour of Cornilleau table might be available in a different area to another, and the delivery speeds might vary too).
Delivery is free and Cornilleau tables are delivered on a pre-arranged day using a two-man service.
If you would like any further help or advice please call 01371 875000 or email us at [email protected]
Table information (dimensions, materials, etc.)
Table size:
274cm long x 152.5cm wide x 76cm high (9' long x 5' wide x 2'6" high)
Minimum play area:
5.1m long x 3.3m wide (17' long x 11' wide), guideline only
Storage size:
159cm high x 164cm wide x 67cm deep
Weight:
122kg
Suitable for indoor use only
ITTF approved competition tables
ITTF W standard for wheelchair play
Leg levellers
Playback facility
25mm chipboard playing surface with SKILTOP coating
Comes with DSI Safety Folding System
Wheels: Large caster wheels with brakes
Frame: 70mm wooden frame
Net included, retractable ITTF posts (stays on table even when folded)
Legs: 12cm x 6cm wooden legs
Assembly: Allow 90 minutes for self-assembly
TTT TV - Watch our videos now
See it in action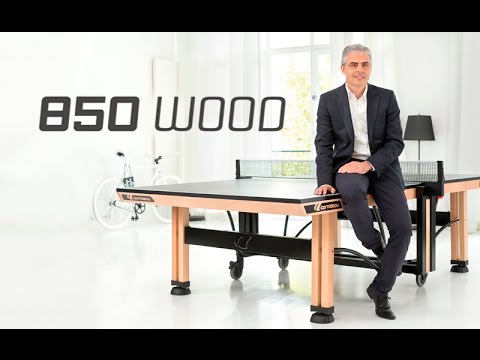 Cornilleau 850 Indoor Table Tennis Table Presentation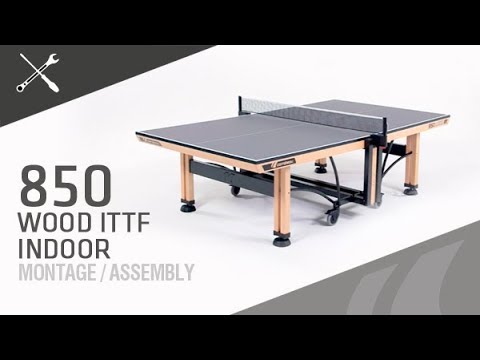 Cornilleau 850 Indoor Assembly Video