Cornilleau Performance 500 Indoor Table Tennis Table
£449.00
In Stock

Why Us?
Watch Our Video

Cornilleau Performance 500 Indoor Table Tennis Table
£449.00
In Stock

Why Us?
Watch Our Video
Add Accessory Set
For Just £29.99
click for details
Would you like us to set it up for you?
Enter your details and we will get back to you
Pro review
The only reason to move further up the range is if you want an ITTF approved competition table. These boast the Cornilleau skiltop finish which improves spin, built for the most serious of players.
The net & post set is an integral part of the table, although some retailers claim they are giving this as a free accessory!
Warranty:
3 year guarantee on all non-wearing parts (excl. wheels, net and posts, bats, cover etc.)
Want to know more about Cornilleau? Click Here

How to pronounce Cornilleau: "Corn-ee-oh"
The Cornilleau Performance 500 is an extremely robust table which offers an excellent level of play and is built to last. It has a very clever net (with height and tension adjustment) which automatically folds away as the table closes and re-appears when you open it. This protects the posts from being broken whilst in the storage position. It benefits from the industry's quickest and safest folding system and has a neat, tidy storage position. Cornilleau indoor Performance tables have a three-year warranty. The legs are strong and it has good quality wheels. There's storage for 4 bats and 8 balls, leg levelers, padded corners, ball dispensers under the table top at each end (for easy access to spare balls when you're serving) and a thicker steel frame. A great table for the serious leisure user, as well as for schools, clubs and offices.
Delivery
Important: If you pop your postcode in the box above marked, 'Check Delivery In Your Area', you'll be shown the availability and delivery timescales for your address for each model and colour option.
Please note that delivery areas & timescales can vary depending on the model & colour you choose (e.g. one model or colour of Cornilleau table might be available in a different area to another, and the delivery speeds might vary too).
Delivery is free and Cornilleau tables are delivered on a pre-arranged day using a two-man service.
If you would like any further help or advice please call 01371 875000 or email us at [email protected]
Table information (dimensions, materials, etc.)
Table size:
274cm long x 152.5cm wide x 76cm high (9' long x 5' wide x 2'6" high)
Minimum play area:
5.1m long x 3.3m wide (17' long x 11' wide), guideline only
Storage size:
155.5cm high x 164cm wide x 75cm deep
Weight:
94kg
Packaged weight:
108kg
Suitable for indoor use only
Leg levellers
Playback facility
Bat and ball storage
22mm chipboard playing surface
Fixed - Retractable net and post set
Corner protectors for added safety
Ball dispenser under each table half
Comes with DSI Safety Folding System
Frame: Corrosion / scratch-resistant steel 50mm
Undercarriage: Steel & Thermoplastic Polymer
Wheels: 30mm x 150mm Double wheel with 2 brakes
Legs: Arched 120mm x 60mm
Net included, which stays on table even when folded
Assembly: Allow 90 minutes for self-assembly
Cornilleau Performance 500 Indoor user manual, parts list and build instructions
TTT TV - Watch our videos now
See it in action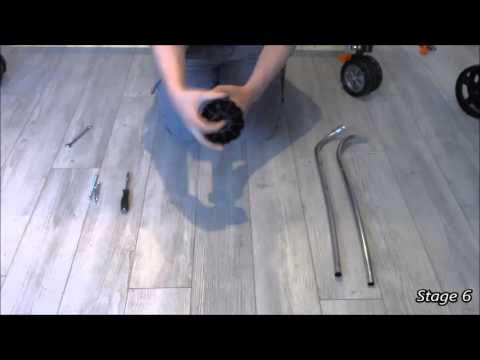 Assembly Video for Cornilleau Performance 500 Indoor Table