Garlando Exclusive Football Table: Discontinued
Discontinued

Why Us?
Watch Our Video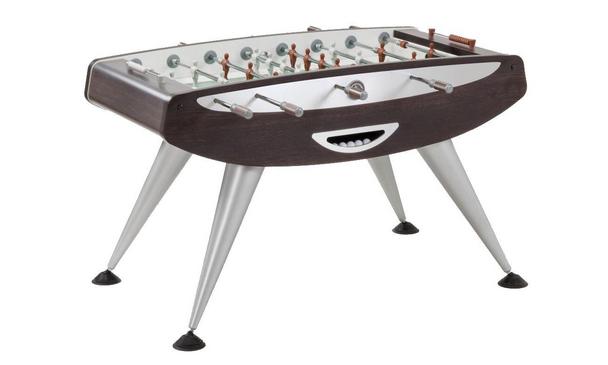 Garlando Exclusive Football Table: Discontinued
Discontinued

Why Us?
Watch Our Video
This football table has been discontinued
To view the current range of foosball tables please
click here.
Our Review
The Garlando Exclusive table football table sits at the top of their professional range. Its state-of-the art, luxurious design will appeal to those seeking a combination of high performance and eye-catching design.
Produced from the highest quality materials, its sleek but sturdy cabinet with an elegant wenge coating is enhanced by a brushed aluminium and wooden finish and features a complete absence of visible screws and parts, for the smoothest appearance.
A personal favourite that reminds me of a 1980's Space Invader.
The Garlando Exclusive Football Table was discontinued in July 2017. It sat at the top end of the professional range with its modern design and high quality materials. The cabinet was incredibly sturdy but sleek, the legs had leg levellers and the goals even had noise-reduction.
Table information (dimensions, materials, etc.)
Table size:
153cm long x 76cm wide (110cm including rods & handles) x 88-93cm high
Weight:
80kg
Suitable for indoor use only
Leg levellers
Noise-reduced goal nets
Playing field: Non-reflective sanded glass
2 x score counters to mark up to 10 goals
Rods: Telescopic 16mm high resistance steel bars
Players: Brown & grey with fully rotating goalkeeper
Professional plastic handles with wenge wooden inserts for extra grip
Cabinet: 30mm multi-layer plywood with wenge coating & brushed aluminium
Roller bearings improve the speed of the game and reduce stress on players' wrists
Legs: Aluminium cone-shaped slanting legs (in HDP with silver lacquering) give the creation an aerial effect
Assembly: Allow 60-90 minutes for self-assembly