Here's Why We Are Your Best Option
Fast pre-booked delivery
High quality products, vast stock
No fake discounts, no gimmicks
Straightforward & honest advice
Best Delivery Options

Fast & Free Delivery to most of the UK

Established Over 20 Years

That's 2 decades of happy customers!
Killerspin Assembly Video
Assembly Instructions for all Killerspin MyT tables
Step 1: Open The Box
Lay the box flat on its largest side and use a box opener or some other sharp object to cut all the taped seams. Lift off the top layer of cardboard and protective packaging and discard. Have friend help you lift each table side out of the box and you're ready to attach the legs.
Step 2: Attach The Legs
The T-shaped legs come with the casters already installed. All you have to do is attache them to the table. Simply lift and extend the base frame from the table and slide the legs into each slot on the frame, making sure to align the red arrows. To help with orientation, the legs will point at the players, not the side of the table.
Using the included wrench, insert and tighten the bolts to secure. After installation, with the legs extended and locked in place, have someone help you rotate the table so it is top-up and resting on its new legs. Repeat for other half of table, placing both halves together to prepare for net installation. If necessary, use the built-in levelers on each of the four outer legs to level the table.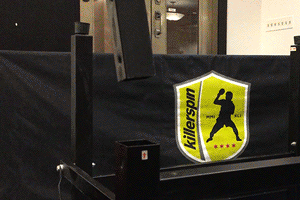 Step 3: Setup & Install The Net
Unfold the net and simply insert the metal pin into the net and slide the pin/net into the post to secure. Then, depending on your net type, you will either clip it or hand screw it on to the seam between the two table halves. Use the string/beads to tension the net once fully installed. The net should be taught and without sag in the middle.