Kettler Spin 1 Indoor Table Tennis Table - Discontinued
Discontinued

Why Us?
Watch Our Video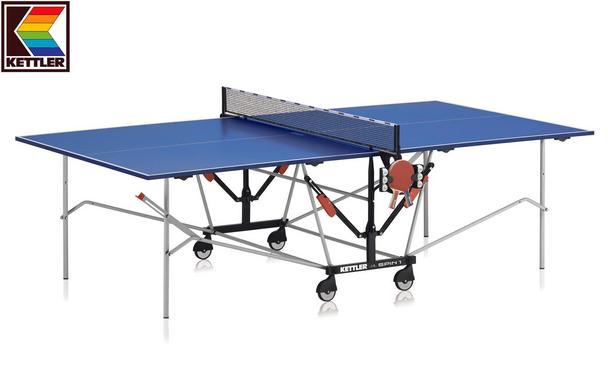 Kettler Spin 1 Indoor Table Tennis Table - Discontinued
Discontinued

Why Us?
Watch Our Video
This Table Has Been Discontinued
Sadly, after a great many years as a leading table tennis brand, Kettler Germany have gone bankrupt. Kettler GB are still going strong and will continue to supply their high-quality garden furniture and BBQ's. However, all the table tennis equipment was manufactured by Kettler Germany so this range has been stopped with immediate effect. Having dealt with them for over 20 years it's a real shame to have them disappear and to see so many of their hard-working staff lose their livelihoods.

14th August 2020
The Kettler Spin 1 indoor table tennis table has been discontinued by Kettler. It was a basic entry level table that had a 16mm playing surface, playback and only a 1 year warranty. It's very similar to the Axos 1 Kettler indoor table.
To see the current indoor Kettler models please
click here.
Table Dimensions and Information
Table Size:
274cm long x 152.5cm wide x 76cm high (9' long x 5' wide x 2'6' high)
Storage Size:
(when folded):183cm wide x 62cm deep x 171cm high
Table Weight:
Packaged - 63kg. Assembled - 60kg.
Kettler Spin 1 Indoor user manual, parts list and build instructions
Table Top:
16mm multi-layer special wooden top
Undercarriage:
25mm round tubing
Net and Posts:
Permanently installed net
1 year warranty on top and undercarriage
Suitable for indoor use only
Playback facility, allows you to practise by yourself
Ultramarine blue, anti-glare coated playing surface
Anti-tilt transportation with 4 steerable wheels
Folding mechanism with double safety lock
Bat and ball storage