Gallant Knight Duo Set (2 Bats & 6 Balls)
£19.99
In Stock

Why Us?
Watch Our Video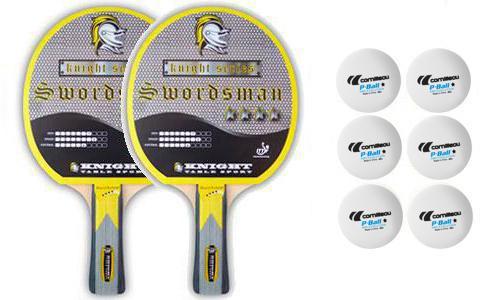 Gallant Knight Duo Set (2 Bats & 6 Balls)
£19.99
In Stock

Why Us?
Watch Our Video
Enter your details and we will get back to you
Pro review and bat information
Now there is no excuse, you both have the same bat!
Ideal set for family leisure. It consists of 2 Gallant Knight Swordsman bats and 6 Gallant Knight Master plain white balls.
The Blade: 6mm poplar & linden wood
Sponge: 1.8mm
Rubber: ITTF Approved
Handle:Concave
Speed: 8/10
Spin: 7/10
Control: 6/10
Technology:
Trampoline Tension Technology: The unique Trampoline Tension Technology gives the rubber and sponge high tension like a trampoline, the rubber can either absorb the attacking ball or spring it away!
Gecko Adsorption Techonology: Due to the Gecko Adsorption Technology applied to the rubber surface, It retains the ball on the rubber for longer, which means you have better control of the speed and spin of the ball
SMF: Symmetrical Microcellular Foam Technology
What the package includes & delivery information
Two: Gallant Knight Swordsman bats
Six: Cornilleau ABS 1* White Balls
Orders received by 4pm (Mon - Fri) are despatched same day. Approximately 97% arrive the next working day.
Accessory orders are delivered using either DPD or Royal Mail (dependent upon the total weight and value of your order).
Once despatched you will be emailed with your tracking details (where applicable).
There is a £3.50 delivery charge for orders under £50 (free when over).
Table tennis bats carry a limited 1 year guarantee (excludes physical damage and normal wear & tear).