Cornilleau Competition 610 ITTF Indoor Table Tennis Table
£599.00
In Stock

Why Us?
Watch Our Video

Cornilleau Competition 610 ITTF Indoor Table Tennis Table
£599.00
In Stock

Why Us?
Watch Our Video
Add Accessory Set
For Just £29.99
click for details
Would you like us to set it up for you?
Pro review
The net & post set is an integral part of the table, although some retailers claim they are giving this as a free accessory!
Warranty:
3 year guarantee on all non-wearing parts (excl. wheels, net and posts, bats, cover etc.)
Want to know more about Cornilleau? Click Here

How to pronounce Cornilleau: "Corn-ee-oh"
The Cornilleau Pro 610 is an ITTF approved Competition table. It offers an excellent level of play and is very robust. It can be folded for compact storage and has two hidden wheels on the underside of each table half. The benefits of this style of table are that it arrives pre-assembled, is very strong and takes up minimal storage space. However it is more awkward to fold and manoeuvre than a rollaway table.
Delivery
Important: Please note that delivery areas & timescales can vary depending on the model & colour you choose (e.g. one model or colour of Cornilleau table might be available in a different area to another, and the delivery speeds might vary too) Delivery is free, Cornilleau tables are delivered on a pre-arranged day using a two-man service.
Table information (dimensions, materials, etc.)
Table size:
274cm long x 152.5cm wide x 76cm high (9' long x 5' wide x 2'6" high)
Minimum play area:
5.1m long x 3.3m wide (17' long x 11' wide), guideline only
Storage size:
139cm high x 152.5cm wide x 14.4cm deep. This table is stored as 2 separate halves. The depth is measured as the total depth of both halves together.
Weight:
94kg
Suitable for indoor use only
ITTF approved competition tables
22mm chipboard playing surface with SKILTOP coating
Legs: Lacquered steel, 8cm x 4cm foot
Net included, removed when folding table
Frame: Corrosion / scratch-resistant steel 50mm
Assembly: Allow 15 minutes for initial assembly
Cornilleau 610 Indoor Table Tennis Table user manual, parts list and build instructions
TTT TV - Watch our videos now
See it in action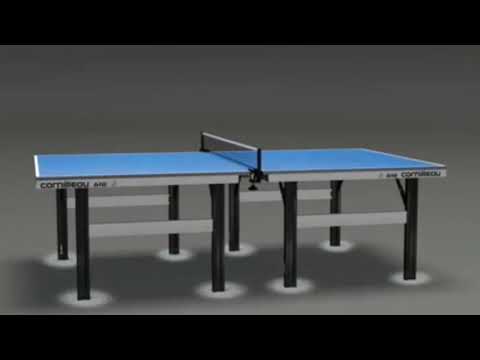 Blue Cornilleau Competition 610 ITTF Indoor Table Tennis Table