TTT's Charitable Work, General News & Fun
Reigate Roystons Table Tennis Club
We were contacted by the new management of Reigate Roystons table tennis club looking to replace their old tables. They had a clear understanding of what they needed from the new tables, which lead them to the Cornilleau 740 competition table. After a few discussions regarding the specification of the table, we arranged to deliver and assemble the tables.



Peter Buckell had this to say…..
"I have recently taken over Reigate Roystons, a "pay as you play" Table Tennis Club based in School premises. There were 9 Donic tables which had been in use for 17 years and despite ongoing maintenance were at the end of their useful life. The criteria for replacement tables included one-man operation putting up and taking down and robustness as they were being used by the School 5 days a week during the winter term as well as on Club nights. They also had to be suitable for competitive league play as they would be used for the annual local Reigate, Redhill and District TTL Championships.
After extensive study of the tables available that fulfilled the above the Cornilleau 740 tables were chosen as they gave the best value for money whilst fulfilling the above criteria. The Table-Tennis-Tables.co.uk website gave full and unbiased information on these tables and therefore I chose to buy from them.
From initial contact through to delivery the staff at TT Tables were positive and responsive. The Sales Manager answered all my questions promptly, he also made efforts to locate Cornilleau 740 tables in use near me so I could talk with current users. As these were in schools it proved impractical to see them being used; however it did endorse the fact that they were used extensively for one of the purposes intended.

I threw them a bit of a curved ball when I asked them if they could be assembled after we had agreed a delivery date (each table takes approx. 90 mins to assemble and I had ordered 9) However they solved this conundrum by preassembling 4 tables leaving 5 to be assembled on site.
The Sales staff kept me up to date with delivery times of both types of tables. On the day both deliveries arrived within the allotted time period. All the personnel were competent and friendly. One of them double checked the pre-assembled tables to ensure no problems emerged after they left.
Overall I would have no hesitation in recommending Table Tennis Tables as from start to finish the whole purchasing and delivery operation went very smoothly."
We were delighted with Peter's comments, pleased to able to help and grateful for his custom. The team at table-tennis-tables.co.uk wish the whole club the best for the future.
National OCD/BDD Ward at Springfield University Hospital, London.
We were recently asked if we could help the National OCD/BDD ward at Springfield University Hospital, London. One of their patients wrote to us and explained how he felt a table on the ward would be a great help to compliment the treatments offered. The ward specifically supports people with Obsessive Compulsive Disorder (OCD) and Body Dysmorphic Disorder (BDD).
Shaun Meyer-Ede, resident Occupational Therapist Wrote..... "Thank you very much for the donation of the table tennis table to the ward. It has quickly become a valued piece of equipment.
Having a table tennis table on the ward offers our service users an activity that may challenge their fears, offer physical exercise, support them to engage in a leisure activity with their peers, offer them an activity to distract them from (at times) difficult emotions and give them an outlet for frustration/boredom and just having a bit of fun!".

Here are some of the comments from our service users :
"Offers comfort and momentary relief from the torture and suffering of mental illness"
"Provides physical and mental stimulation"
"Offers a distraction and helps people to refocus their attention on an activity to help them stop doing their compulsions"
"Good addition to the ward…breaks up the boredom"
"Helps distract me from my OCD"
"Great way to pass the time and helps me to socialise"

We are glad that we were able to help and wish you all the best in the future.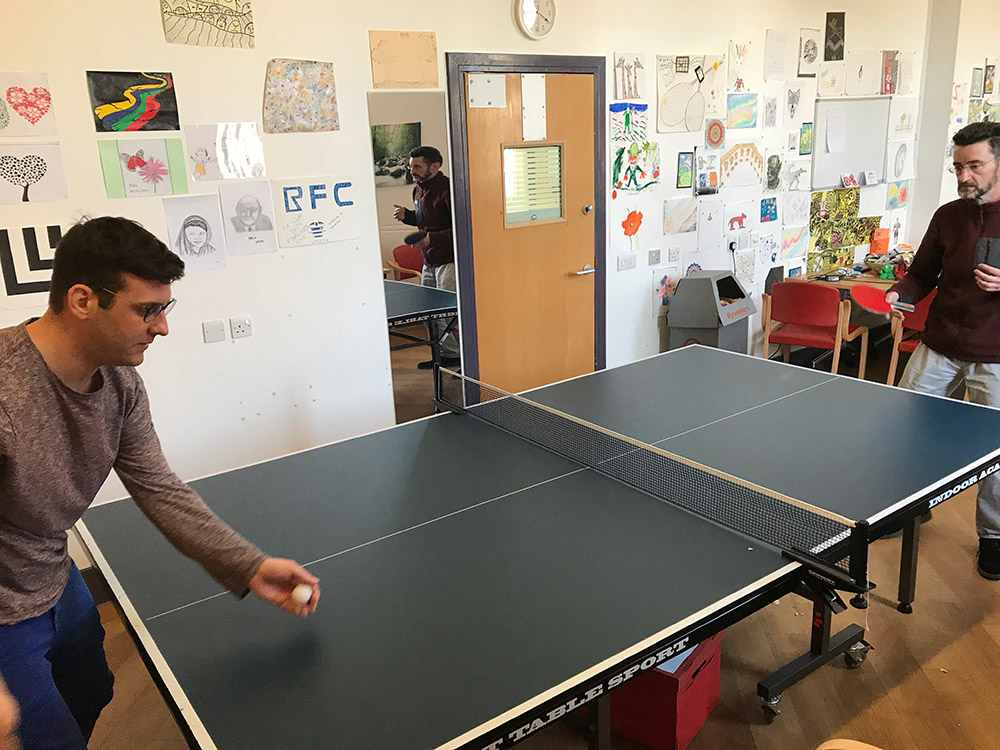 An Iconic London backdrop for our table assembly team!
We recently had the pleasure of supplying a Cornilleau Park table at the iconic former Walthamstow Stadium.The stadium site has been developed into 294 new homes. Part of developers plan was to sensitively restore and refurbish the grade II listed tote building and former kennels.
Originally built at the beginning of the 20th century, the Myrtle Grove sports ground was used by the Walthamstow Grange Football Club from 1908.
In 1929 the ground hosted greyhound racing for the first time and was known as the Crooked Billet Greyhound and whippet track.
The famous Art Deco parapet entrance was built in 1932. The equally famous clock tower and totalisator board was the work of Thomas & Edge Builders of Woolwich. The famous aviator Amy Johnson was in attendance at the official 'Grand Opening' on April 15th 1933.
Ever since Walthamstow Stadium has been an Iconic sight in East London. Whilst it's sad to see the loss of the track, it's great that the memorable features have been maintained and restored.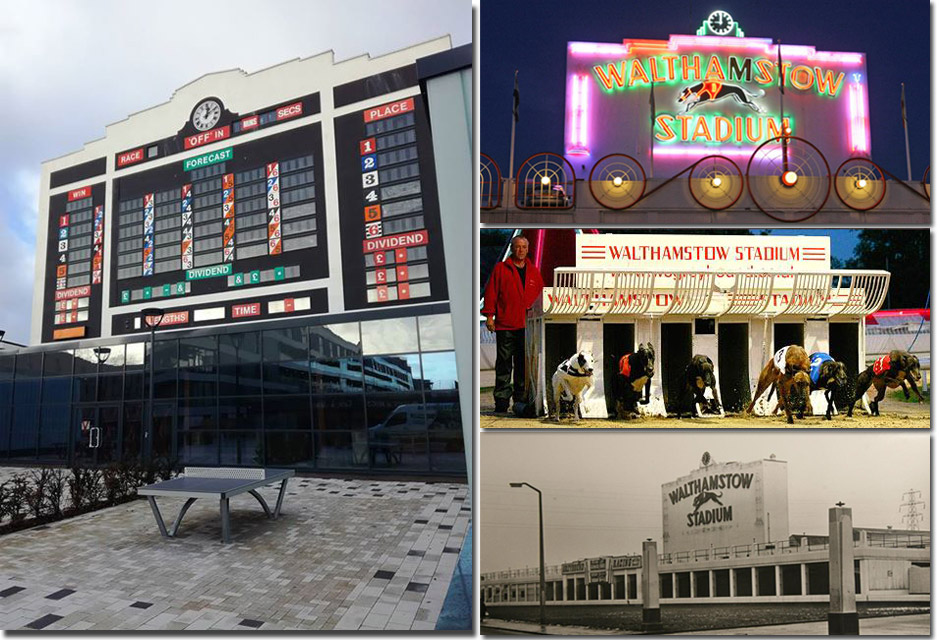 Mercy UK
We were pleased to have been able to help this wonderful charity, Mercy UK, by donating a table for their fundraising event and use at their residential home in Oxenhope.
Mercy UK offer a 6 month free residential programme for young women aged between 18 and 30 years old. They provide a safe environment for women suffering from life-controlling issues such as self-harm, eating disorders and abuse of all kinds.
The vision for Mercy UK was born in 1999 after Pastor Paul Scanlon from Life Church in Bradford met Nancy Alcorn and heard about the work of Mercy Ministries (now known as Mercy Multiplied). The pastor was convinced that the UK needed these homes too and was passionate about making a difference. He set about forming a team to bring Mercy to the UK; a team which included their current Chief Executive, Arianna Walker.
By 2004 Mercy UK had become an independent charity, governed by a UK Board of Trustees and then in 2006 they opened their first residential Christian discipleship programme. Since then they've seen over 300 courageous young women enter through their doors and they plan to expand further and offer even more services.
We would like to wish them all the best for the future and should you like to learn more about this fantastic charity, or even offer them your support please visit their website: mercyuk.org
Bubba Gump Shrimp Co. London
03/03/2017
Bubba Grump Shrimp Co. has come to London and is in the 'Trocadero' building, just a few minutes' walk from Piccadilly Circus. The restaurant is a tribute to the much loved film 'Forrest Gump' and features some great memorabilia and a South American menu befitting the film's Alabama setting.
What really got everyone here at Table-Tennis-Tables.co.uk talking, is the fact that they're currently holding a table tennis event every Tuesday on a couple of Cornilleau Perform 500 Table Tennis Tables they purchased. In their words, "Eat, Drink and Play Ping Pong" from 6pm (#TTT for more information). This is a fantastic way to honour such a great film as Forrest Gump was a massive table tennis fan, playing the game in several scenes. So, if you love Forrest Gump then you have to visit Bubba Gump Shrimp, play table tennis and enjoying some seriously delicious food and drink!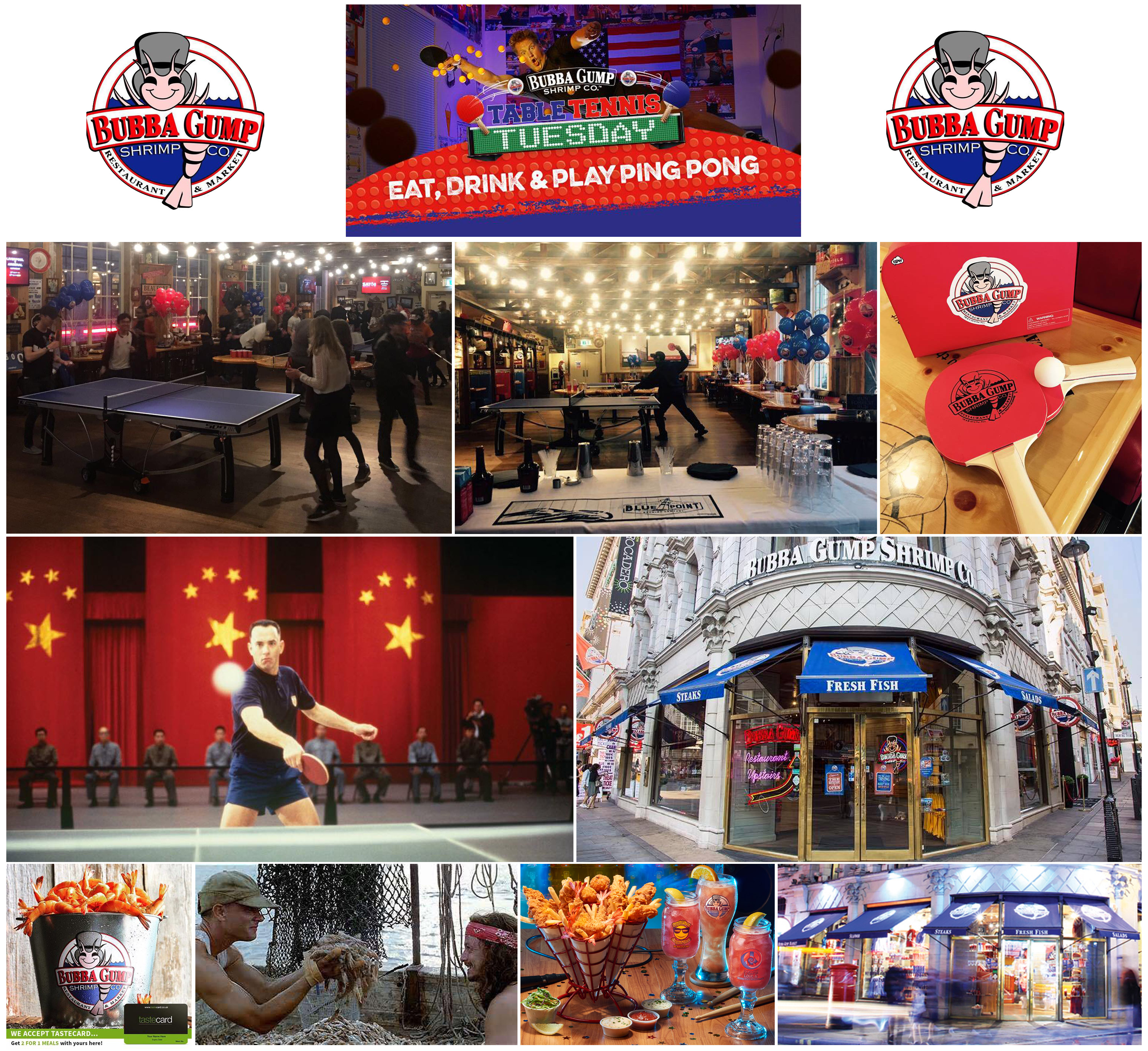 "Happy 18th Birthday to us"
Today's a great day for us as it's our 18th birthday. How time flies when you're having fun!
We'd like to say a huge thank all of our customers for your business and support that allowed us to reach this great milestone.
It's time to eat some birthday cake and make plans for the year ahead. Now we're 18 we're even allowed a little bubbly to celebrate!
Xxx
The Table Tennis Tables Team

ITTF WORLD TABLE TENNIS CHAMPIONSHIPS
The England Men's team enjoyed its most successful World Team Table Tennis Championship for more than 60 years when they won the bronze medal in Kuala Lumpur.
Seeded 18th, England beat Germany, Denmark and Malaysia to win through the Group stage. The win against Germany was particularly significant as they were the No 2 seeds and all 3 players were higher ranked than any of the England team.
In the last 16 Knock Out stage, England beat Poland 3-2. The quarter final opponents were France who had beaten England in the preliminary groups. England reversed the result with a 3-2 victory. Then in the semi-final England were beaten 3-1 by Japan after having real chances of reaching the final to play China after Liam Pitchford was in a winning position in both of his singles matches against much higher ranked opponents.
Pitchford was the most successful of the England players with 8 wins and 5 losses, Paul Drinkhall had 5 wins and 6 losses and Sam Walker with 4 wins and 4 losses.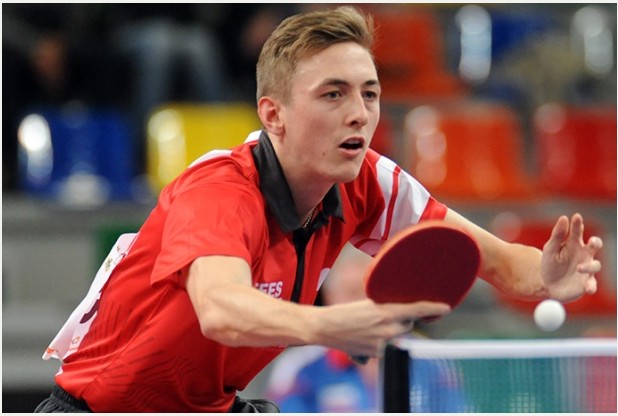 England played throughout the competition wearing their new England Butterfly kit and the Championship was played on Butterfly tables exclusively.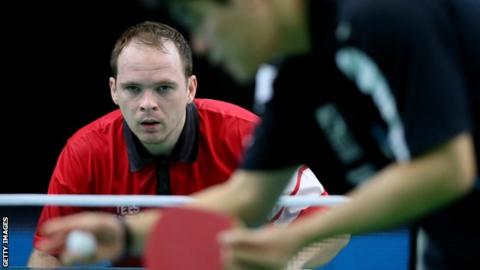 Sprowston Senior Citizens Table Tennis Club
Inspired by the film 'Ping Pong', Sprowston Senior Citizens group started their table tennis club in 2013. The aim of the film 'Ping Pong' was to encourage and promote active ageing using table tennis. The sport is an ideal way to maintain a healthy body healthy, mind happy and to stay socially active.
Click here for more information about the club.
When they first started they had to use small tables that were already at the venue, putting them together to make different sized tables. They also had access to a ¾ sized table tennis table which had to be brought to the venue each week! The group were awarded £500 from Active Norfolk and used the money to purchase some new Gallant Knight Academy table tennis tables, as well as bats, balls and nets.
Sessions are every Tuesday between 10.00am and 11.30am at the Sprowston Senior Citizens Club, Wroxham Road, NR7 8EN. It costs £2.00 which includes tea and biscuits. There's no membership fee required so you can just turn up and pay and play on the day. Equipment is provided but of course players can bring their own bat if they wish. You'll just need suitable footwear.
It is a very friendly group and everyone attending enjoys the opportunity to play 'social table tennis' and have fun. All session includes a break with plenty of chatting. The emphasis is on fun, keeping active and meeting new people whilst doing something enjoyable.
Earl Jacotine of Broadland Council with support from Wally Murrell established the group and continue to enthusiastically run and promote it. Local coach Mark Dare has attended to provide hints and tips on playing. The club is a great success story with up to 24 players attending each week. A committee has been formed within the club, and the future looks very bright.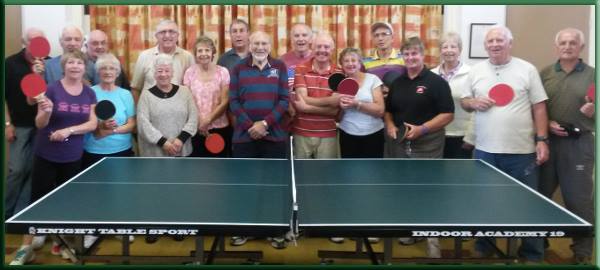 Evan's Clever Idea to Strengthen His Weaker Arm
At table-tennis-tables.co.uk we absolutely love to see youngsters enjoying their tables and to hear of any fun new games and training ideas they have thought up.
We were delighted to receive this photograph from Catherine showing her 10-year-old son Evan playing on his new Kettler Stockholm. As you can see he's using the playback facility with a table tennis bat in each hand. He came up with this idea to strengthen his weaker arm. Good thinking Evan!
We hope you keep improving and that you continue to get lots of fun from the sport.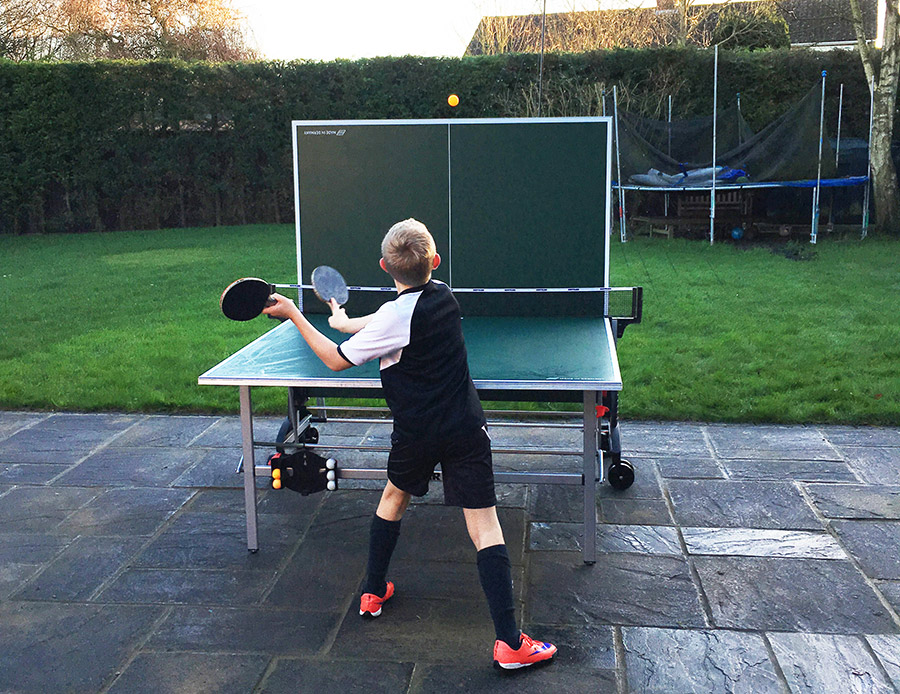 Table-Tennis-Tables.co.uk go to the Great Dunmow Carnival 2015
Table-Tennis-Tables.co.uk were very happy to be able to supply their gazebo and table tennis table for a stand at the Great Dunmow Carnival this September 2015. Running the stand was Mike Smith, Keith Martin and a couple of other table tennis enthusiasts and coaches. They had lots of interest in the tables and handed out lots of flyers for the BNCA and TTC.
Members of the public were welcome to pick up a couple of bats and have a play on the table, which many people did. We're delighted to see so many people embracing the fun and friendly competition of table tennis and hope that we've been able to encourage lots of youngsters and older people alike to take up the game.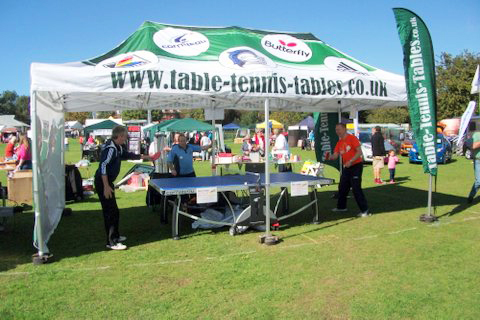 Customers Share the Pictures of Their Table Tennis Fun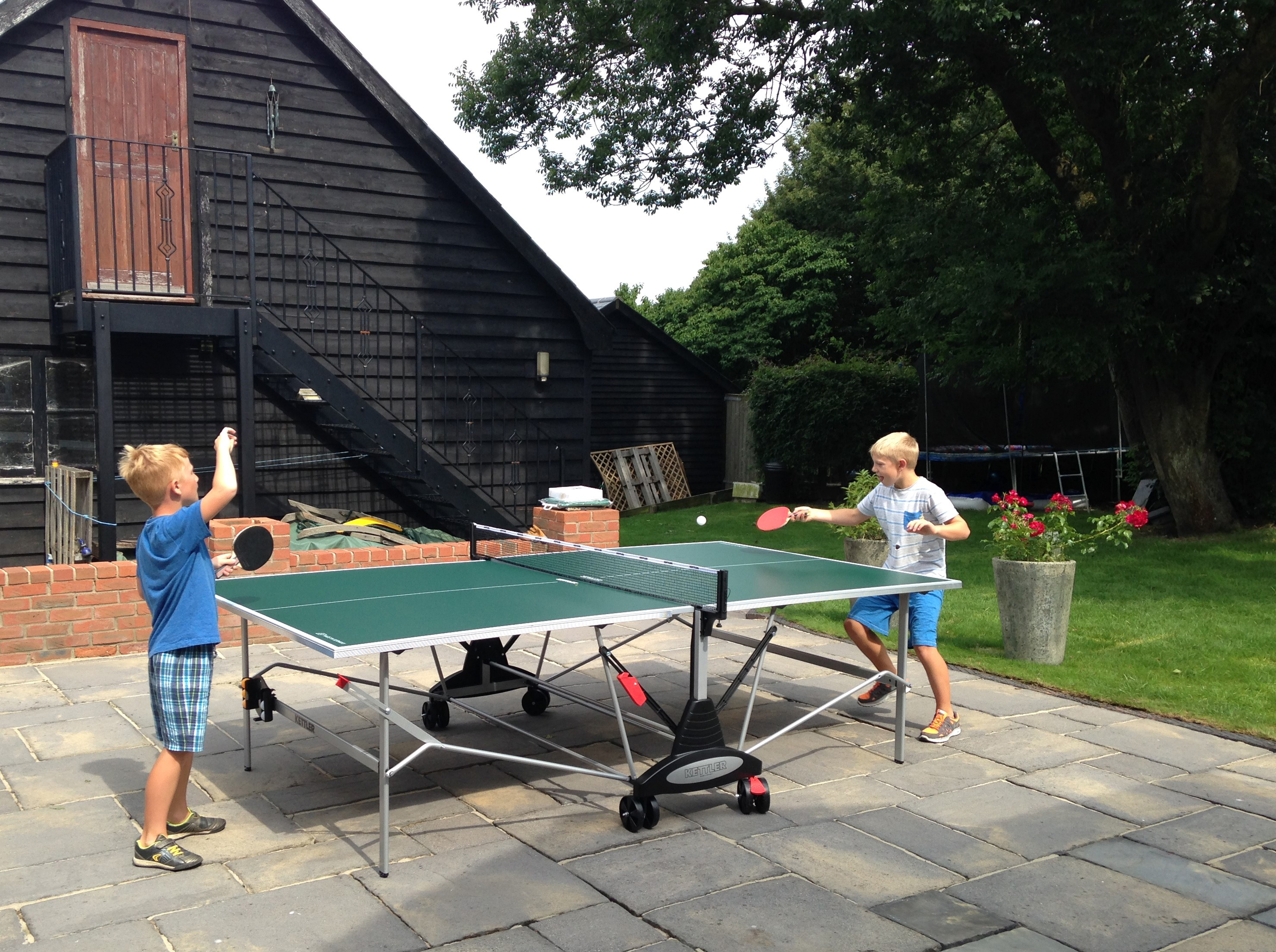 We just wanted to share this wonderful photo we received from one of our customers. The boys (aged 8 and 10) love their new table tennis table so much that they were up and outside playing in their PJs before breakfast!
This is what we love to see and we hope the whole family has many, many years of fun & friendly competition. Thank you for sharing this picture with us.
From all of us at Table-Tennis-Tables.co.uk
Champagne Donation For Leukaemia & Lymphoma Research

We were honoured to be able to donate a bottle of champagne to the silent auction in aid of Leukaemia & Lymphoma Research Charity.
We had this kind message sent to us from the organisers 'I'd like to say a massive thank you for supporting this worthy charity with your generous donation! The effort you went to add a personalised label did not go unnoticed, many people commented on how fantastic it looked! Thank you so very much, really very grateful. The bottle went in to the silent auction and went for £100!! Over all we raised just over £7,000 in memory of my father in law and in aid of leukaemia and lymphoma research so thank you once again for the part that you played in that.'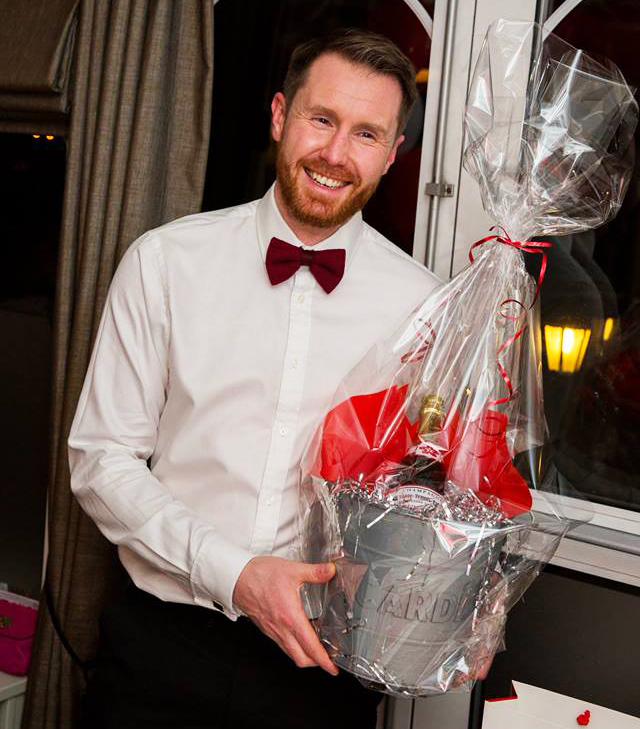 Jobsgopublic Raise Money For Breast Cancer

Jobsgopublic are a digital resourcing company with a range of advertising, marketing and software services for the public and not for profit sectors. They are passionate about their charity work and recently held a 'Pink Party' in aid of Breakthrough Breast Cancer. They purchased a Cornilleau Sport 250 table tennis table for their offices and as a centerpiece for the event.
When they told us about their fundraising plans we were delighted to donate two Pink Adidas Laser Candy bats and cases for their raffle.
Their event raised £640 for this fantastic cause.
Well done to everyone at Jobsgopublic and thank you for choosing us as your table supplier. We hope you have years of fun in the office and hats off to you all for your fundraising.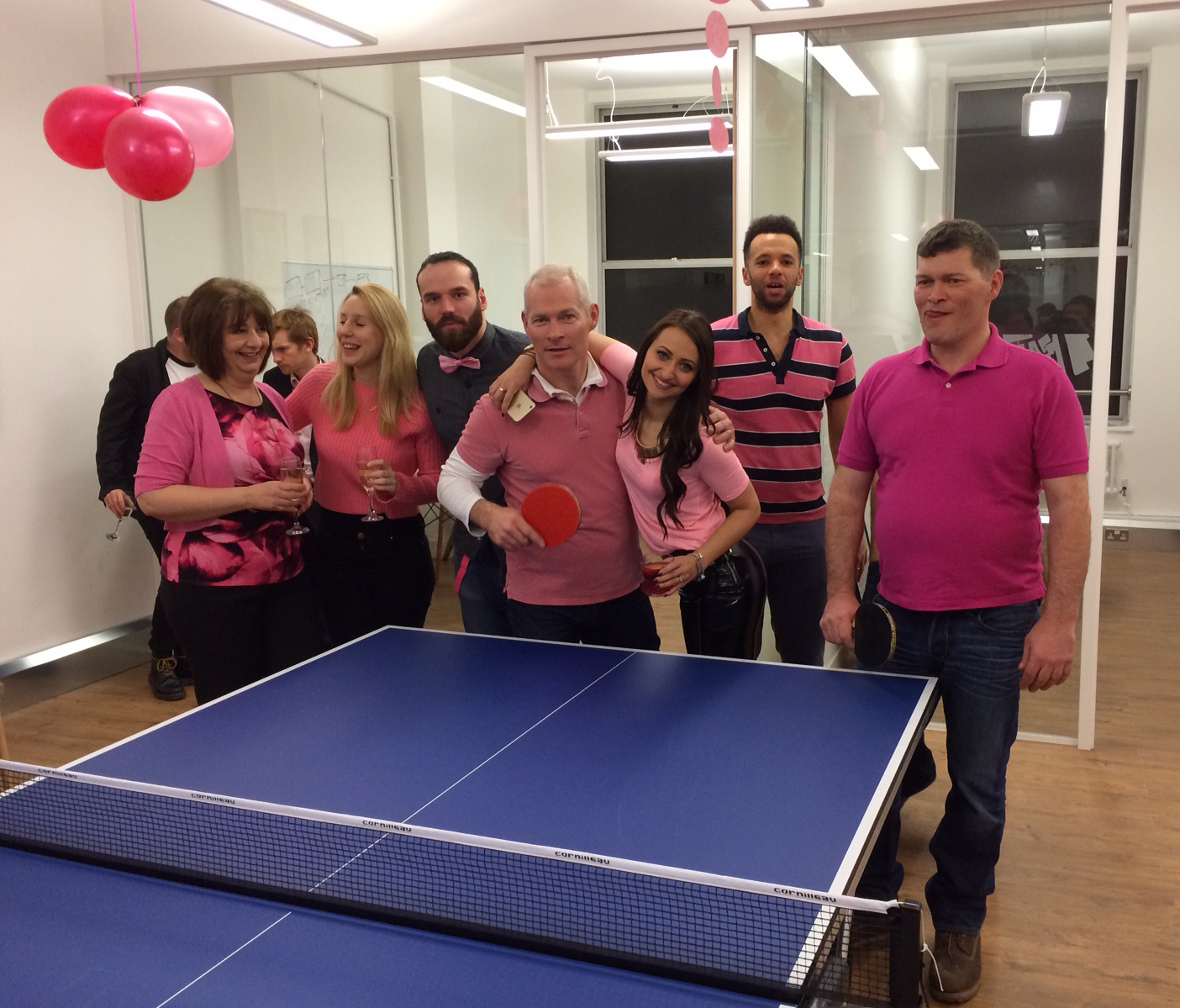 Here's what Miles Skelton, Managing Director, had to say about us and the table we provided:
"We have recently moved into our new office in Farringdon EC1 London, and pride of place in our break out area was our new table tennis table purchased from yourselves. May I thank you for the table tennis bats that you kindly donated that we offered as prizes for our charity competitions.
We had an amazing evening and everyone loved the table...and whilst the original plan was to fold it away during the day it has stayed out since :)
I was incredibly impressed with your service...from initial conversations with Russell to delivery and after sales service you guys have been great...and the table is just top notch. "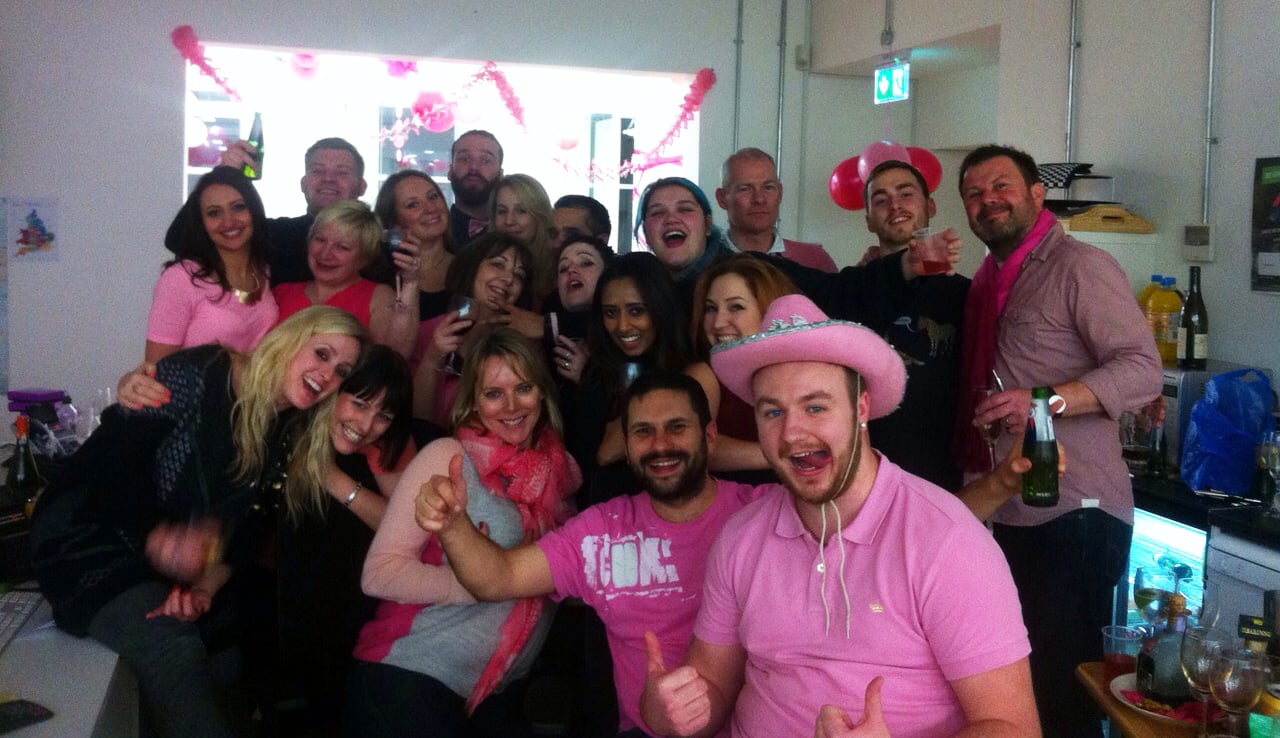 If you'd like to visit Jobsgopublic's website it's as follows: www.jobsgopublic.com.

Breakthrough Breast Cancer is an incredible charity that work at finding new treatments, promote early detection and ensure the best possible care for people with the disease. Unfortunately Breast Cancer is the most common cancer in the UK, with around 50,000 women and around 400 men being diagnosed every year. To find out more about Breakthrough Breast Cancer visit www.breakthrough.org.uk.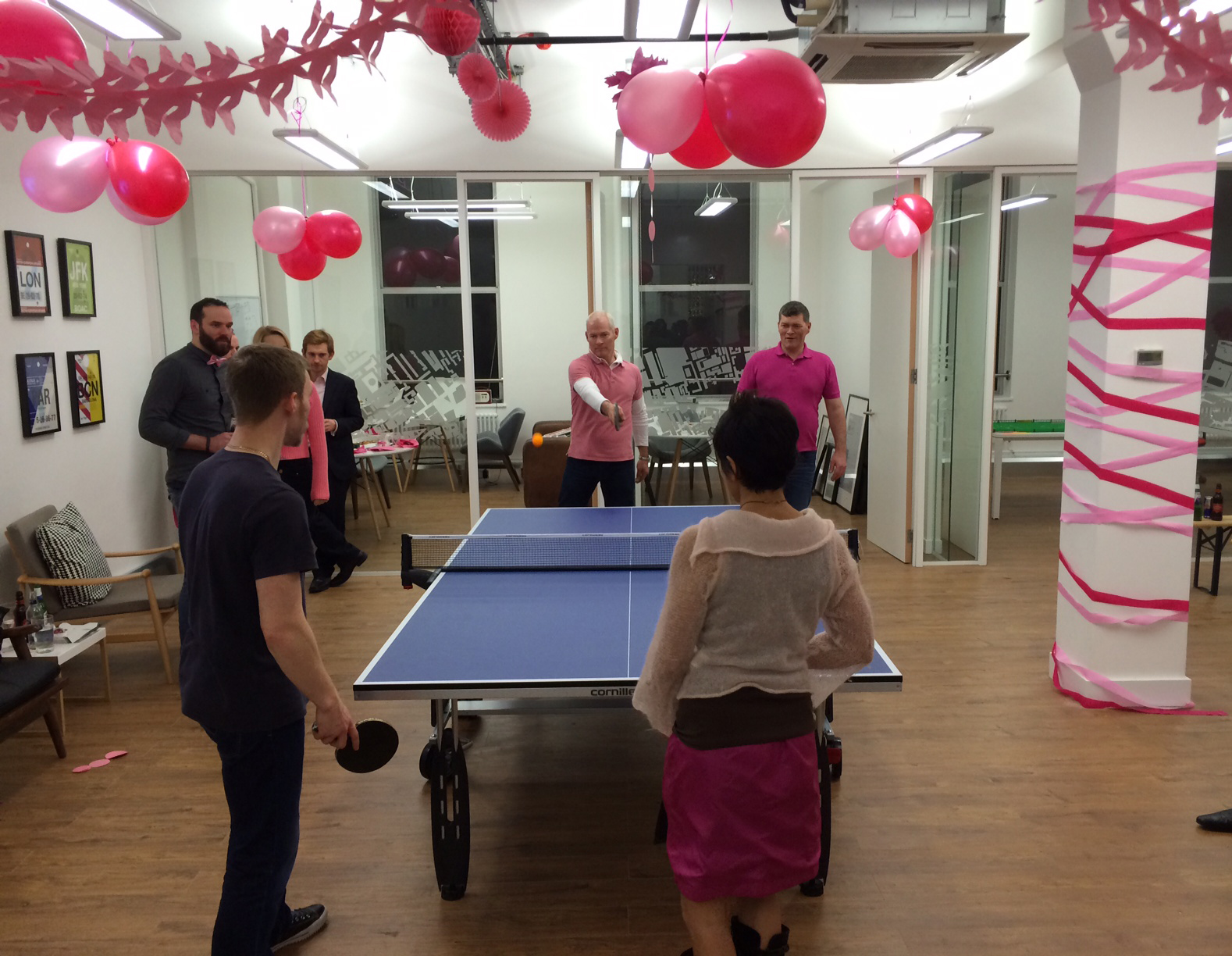 Wiff Waff Bar, Wales

We were delighted to be selected as the equipment supplier for the new Wiff Waff Bar in Wales.
Wiff Waff combines excellent food with lots of table tennis fun at this 'Old-School' themed historic coaching inn. Whether you fancy relaxing with some food and drink in the Library, grabbing a drink while playing table tennis in the Sports Hall or having a private match in the Headmaster's Office, there is something to please everyone. Wiff Waff is ideal for family fun, be it competitive or friendly. They have a great range of tables available to play on including the ultra-cool and unique Sketch & Pong by Kettler, several top-end Cornilleau Sport 500's, and their 'Pièce de résistance', a Cornilleau ITTF Championship Event table. Wiff Waff Bar have spared no expense to ensure you enjoy a great playing experience.
Wiff Waff bar address:
Wiff Waff Bar
10 Market St,
Aberystwyth,
SY23 1DL
Tel: 01970 623500
Website: www.wiffwaffbar.com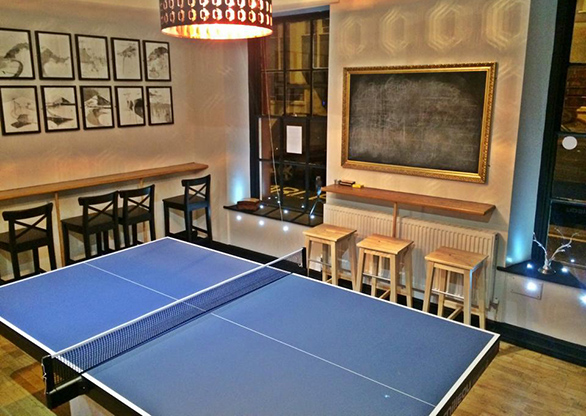 Opening Times:
Sunday: 12 noon until 8pm. Kitchen from 12 noon until 5pm.
Monday: Closed
Tuesday - Thursday: 12 noon until 8pm. Kitchen 12 noon until 8pm
Friday: 11am until 1am. Kitchen 11am until 9pm
Saturday: 11am until 1am. Kitchen 11am until 9pm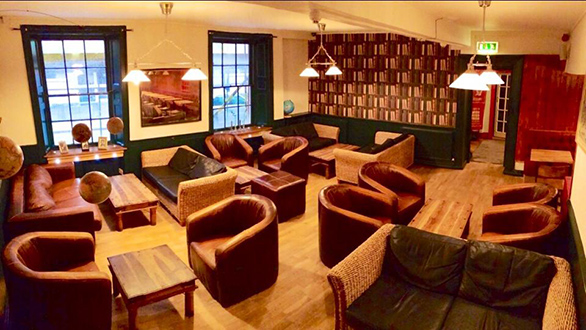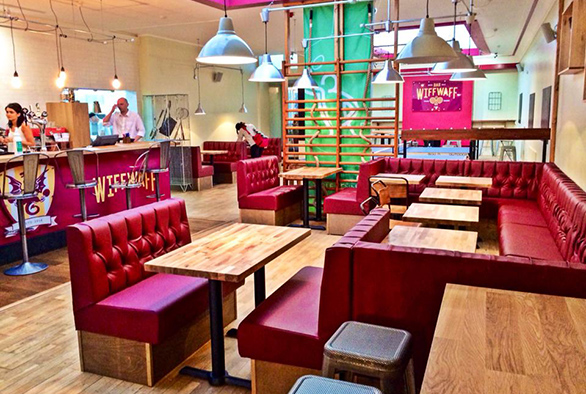 Testimonial from People Source

We were recently contacted by People Source about supplying them with a table tennis table for their new offices.
People Source are an award winning company who recruit across the UK and mainland Europe, providing professional recruitment solutions to the technology industry.
We love seeing new and creative ideas for staff welfare and chill out zones, we use table tennis tables as our desks which we thought was cool until we saw their offices.
We also share similar philosophies, People Source are very people orientated with both clients and staff. We certainly pride ourselves on our personal service and being one of the few companies still happy to speak with our customers.
Ria Davidson - The internal recruiter for People Source Consulting had these kind words to say about us.
"The service given by Table Tennis Tables was impeccable, and the delivery fast. Paul was extremely helpful when we placed our order and gave some great advice on the best table to buy for our requirements. Lunchtimes have become pretty competitive (but fun) at People Source now!"
If you would like to visit their website please click here.


Braehead Clan Ice Hockey Team Also Love Table Tennis
Braehead Clan Ice Hockey Team have recently purchased a Gallant Knight Academy 19 table tennis table from us for their players to use. Table tennis is a fantastic way to improve reactions, balance and hand-eye co-ordination. It's extremely popular with professional sportsman and women from a vast array of disciplines. The player below is Derek Roehl who joined the team in July 2014.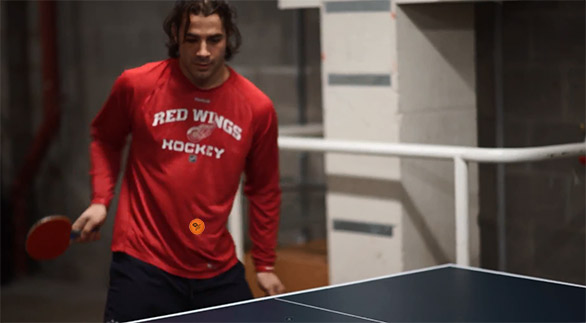 The Braehead Clan are Glasgow's only professional ice hockey club and they compete in the Rapid Solicitors Elite Ice Hockey League (EIHL), which is the UK's premier ice hockey league. The Clan play out of the 4,000 seater Braehead Arena. It's a superb entertainment venue in a stunning location on the banks of the River Clyde. The club are also highly involved with the local community, helping promote the benefits of a healthy and active lifestyle. We're so pleased that table tennis has become a part of both their training and their relaxation time, as it has with so many other sporting teams. It's also worth noting that at the time writing this the Clan are sitting pretty at the top of the Elite League! Years ago the Superstar footballer Gareth Bale purchased table from us and soon after he hit the big time and became one of the world's best.....just saying!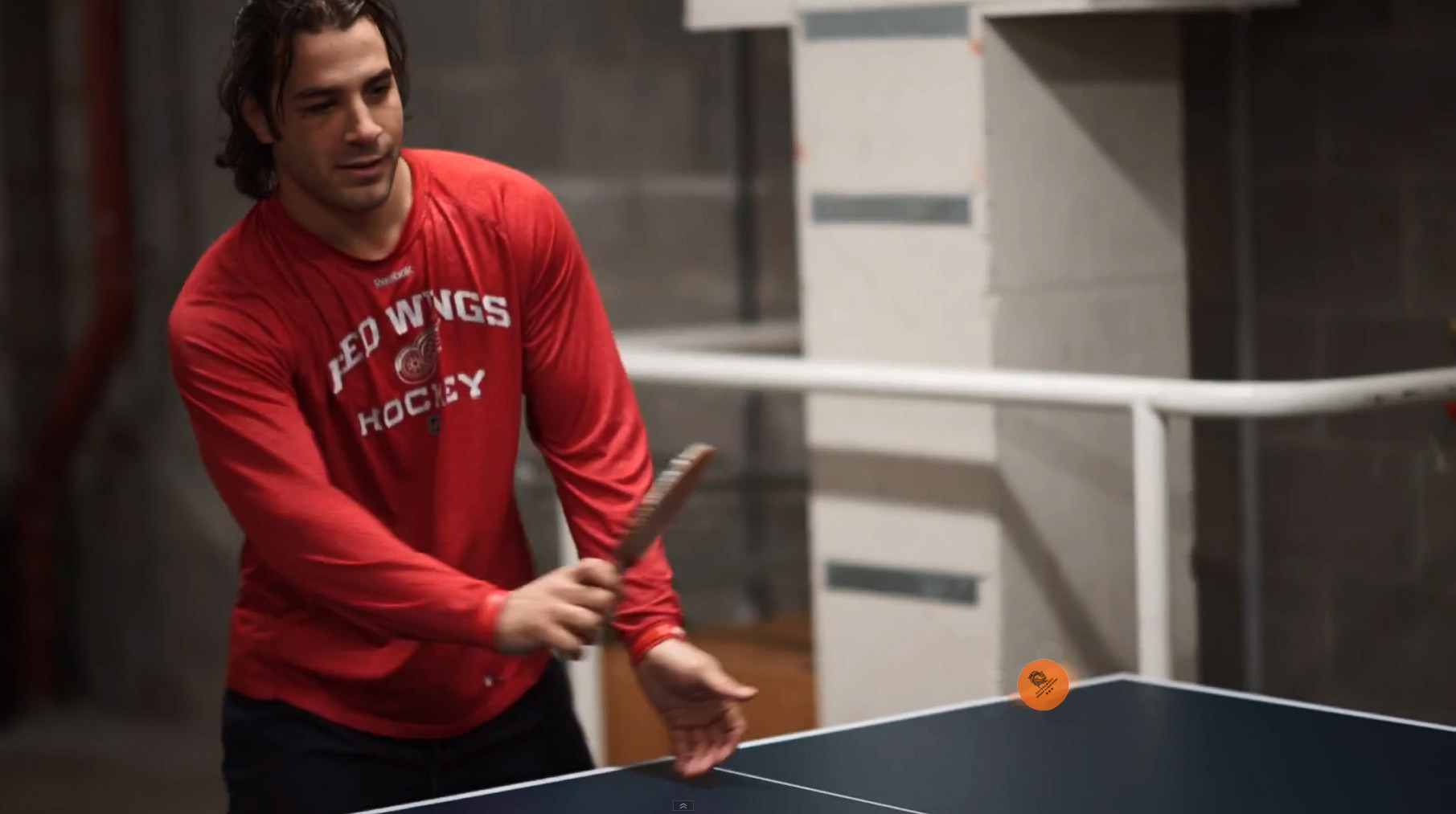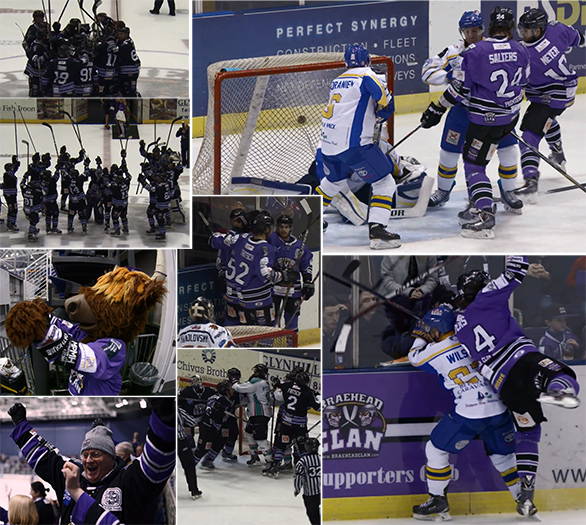 Table Tennis Tables Loaned To J.P.Morgan For Children In Need
We were recently approached by J.P. Morgan Asset Management as they wanted our help to raise money for BBC Children In Need. We were delighted to be able to support them with their charitable endeavour and agreed to loan them a couple of tables free of charge. We rushed two Kettler Smash 11 table tennis tables to their London offices for their in-house tournament which took place over three weeks.
We would like to say a big thank you and congratulations to everyone at J.P. Morgan who took part and well done for raising money for this great cause.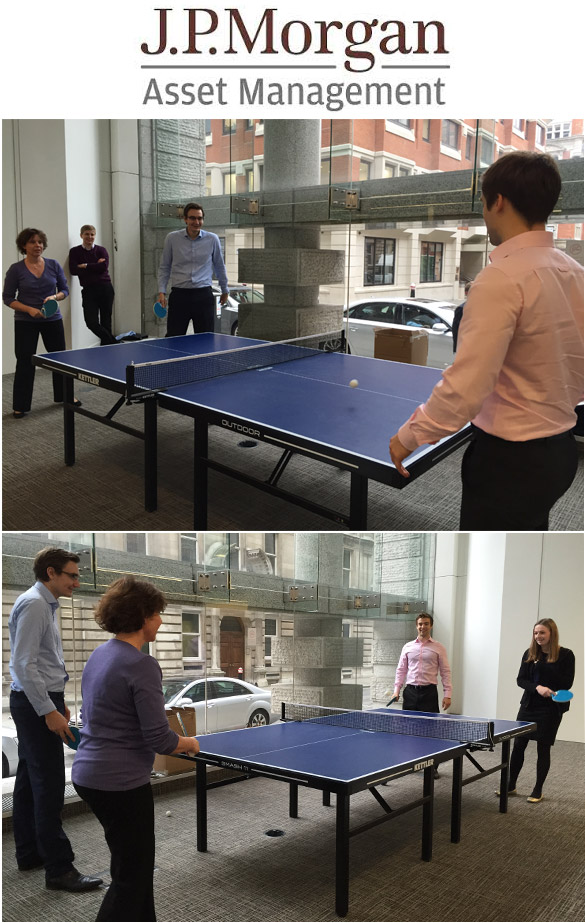 Table Tennis Tables Donated at CarFest 2014
This summer Table-Tennis-Tables.co.uk was approached by Chris Evans to come to CarFest to help raise money for BBC Children In Need. As this is such a worthy cause we were delighted to accept and so we packed up a dozen table tennis tables, our camping gear and gazebo to head up North for the festival.
Once the tables were all set up people came and paid to use them, even Darth Vader had a go. In doing this we were able to raise well in excess of £1000.
To help raise even more money we also gave away two Kettler outdoor table tennis tables as raffles prizes. Each table is worth £599, so we were excited to be able to offer something that'd be such a great prize.
Table Tennis Tables Joins Tunnel To Towers Race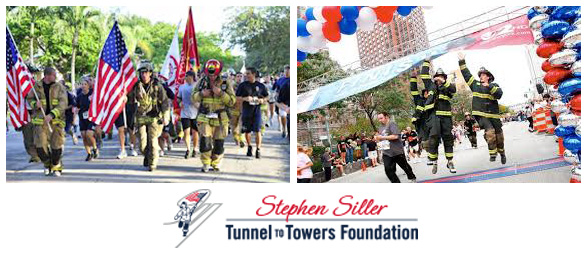 This summer Table-Tennis-Tables.co.uk were asked to attend the fantastic Tunnel to Towers charity event in London to help to raise money by providing table tennis tables as entertainment. Obviously we felt privileged to be a part of such an incredible event for such an excellent cause. Two of our staff entered the race to raise money for the Pilgrim Bandits charity who help injured servicemen. Well done Chris and Tom! The Tunnel to Towers Foundation was created in the US in honour of Stephen Siller, a firefighter who risked and ultimately gave his own life to save others during the attack on the Twin Towers. The event is mirrored in the UK and sees firefighters and the public running the 5Km course for their chosen charity. Beginning in Southwark Park in South London, through the Rotherhithe Tunnel and finishing at Billingsgate Market in the shadow of Canary Wharfs Towers, where a street party is held into the evening.
Stephen Siller's Story Firefighter Stephen Siller was sadly orphaned at the age of nine which left him to be raised by his older siblings. Despite his difficult start in life and thanks to the love of his siblings & the values taught by his parents, he grew to be an extraordinary individual & dedicated firefighter, achieving much in his 34 years.
On September 11 2001, Stephen had just finished the late shift at Squad 1, Park Slope, Brooklyn and was on his way to play golf with his brothers when he heard on his scanner that the first plane had hit the Twin Towers. On hearing this he called his wife Sally and asked her to tell his brothers he would meet them later, and then returned to Squad 1 to get his gear.

Stephen then drove his truck to the Brooklyn Battery Tunnel, which was already closed so he strapped 60 lbs of gear to his back and rushed on foot through gridlocked traffic. He ran from the Tunnel to the Towers where he saved the lives of others but unfortunately at the cost of his own life.
Table Tennis Tables Donated by Table-Tennis-Tables.co.uk

Wiff Waff Bar

Free Accessories For The Soldiers in Afghanistan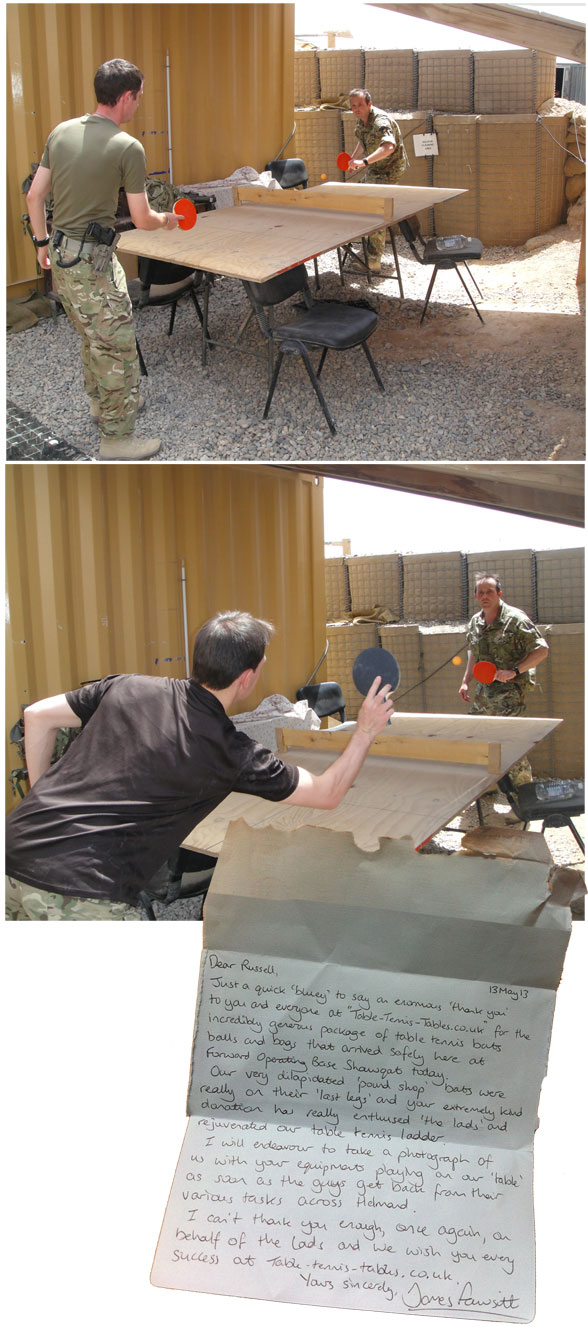 Champagne Donation For Meningitis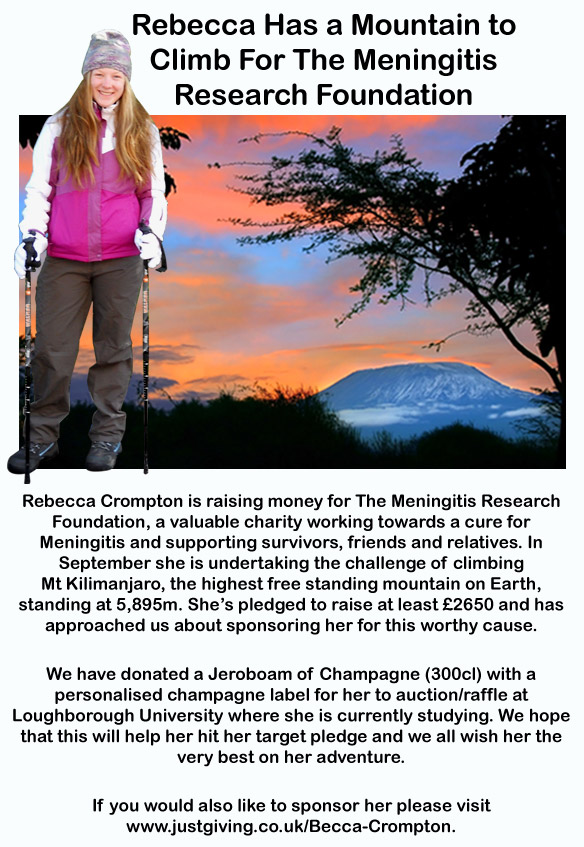 Golf Bag Signed By Sandy Lyle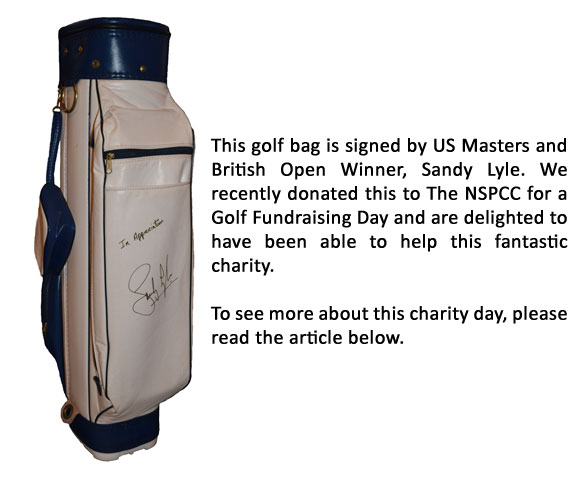 A Table Tennis Gift For The Residents Of BAC O'Connor Centre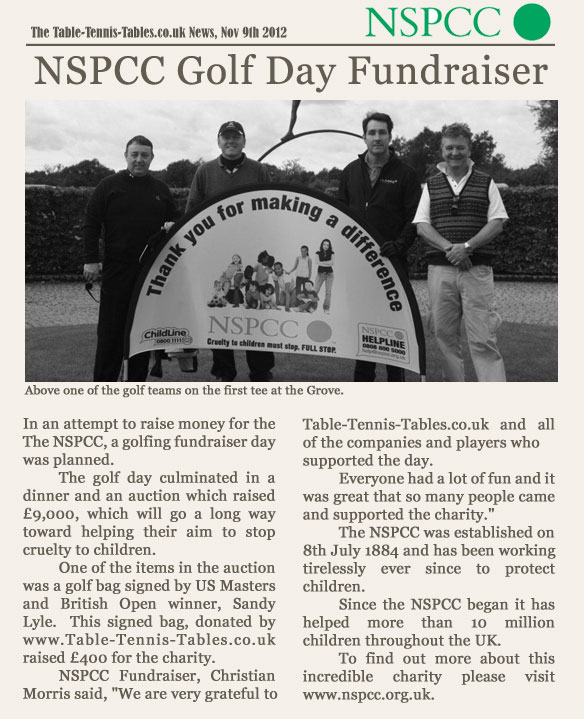 Table-Tennis-Tables.co.uk is delighted to have been able to support the NSPCC.
The Saracens Enjoying The Table Tennis Table We Supplied
17th October 2012….
Table tennis is a great game for all ages and athletic abilities. Our customers range from pre-schoolers to world-class professional athletes.
We were delighted to supply a table tennis table to Saracens Rugby Club recently.
The players at Saracens enjoy the game to wind down after a gruelling days training, but always display their competitive nature at the table. They were kind enough to send us the video below.
Saracens is a club steeped in History. Dating back to the 18th Century, they've enjoyed huge success through the ages.
If you would like to take in a Saracens game please visit their website at www.saracens.com for their latest fixtures.
It's fun for the whole family and the atmosphere is truly electric.
We'd like to wish Saracens a successful season and thank them for their custom!
Never Too Young to Start!
This clip was filmed at Woolwell Table Tennis Club and shows 18 month old Jamie playing multi-ball (which is a repetitive practice technique) with his father Kevin. They have been "playing" table tennis together since Jamie was just 6 months old. Kevin originally made the video to send to his partner's family, but it has now become a huge YouTube hit, which to date has had over 1.5 million views. Table tennis certainly runs in the family. Kevin's partner Marketa is a former champion from the Czech Republic and his older son is also showing great promise. We wish them all good luck with their training and hope the children enjoy a long and happy playing career.
Nor Too Old To Start!
Meningitis Research Foundation Charity Golf Day 12th October 2012
We are delighted to be able to support the Meningitis Research Foundation for the second time. We have once again supplied two Champagne gifts as prizes for their Charity Golf Day at the legendary Wentworth Golf Club. This year Deutsche Bank is sponsoring MRF's annual golf day, and teams from Deutsche Bank will take part along with other business partners including City AM, Sky, Yahoo, Google, News International, ITV, Channel Five and more. If you would like to enter a team and help support the essential work carried out by the Meningitis Research Foundation please contact them on 01454 280418.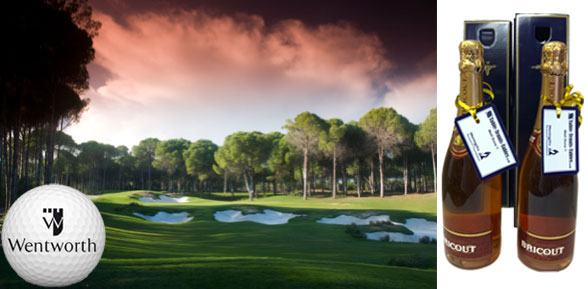 "The Flower Pot Gang" TV Show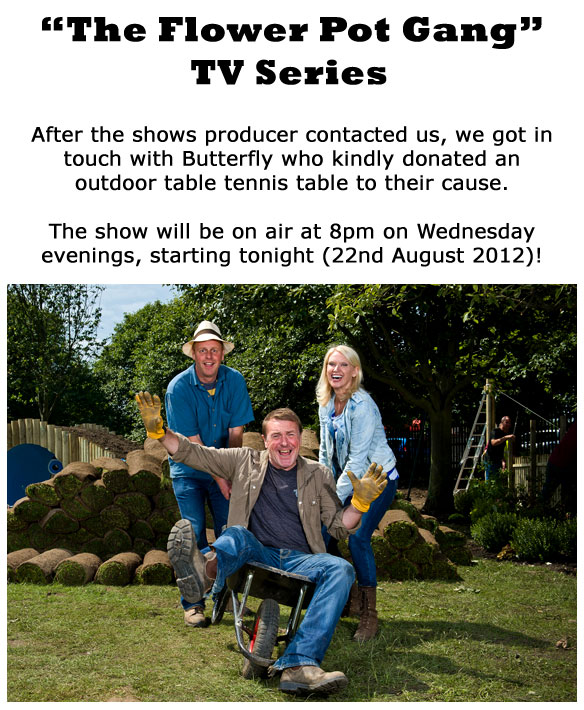 A Table Tennis Gift For The Residents Of BAC O'Connor Centre

Table-Tennis-Tables.co.uk is delighted to have been able to support the BAC O'Connor Centre.
We wish all of the residents the best of luck for the future.
Chill out time at Centroid Motion Capture

More and more companies are buying tables for their staff.
Centroid Motion Capture recently purchased a Cornilleau Sport 500. They now enjoy regular ping pong rallies during breaks…So keen to get to the tables, they often play in their work clothes.
For most of us this would look too amusing, but the guys from Centroid are wearing special Motion Capture suits as they are in the character animation business.
The company based at Pinewood Studios, are leaders in movie animation production and boasts the most cutting edge technology. They have been involved in the production of a great many blockbuster movies, such as Prometheus and James Bond. Their services also aid the production of high-tech video games and some amazing TV commercials, such as the award winning Evian 'Roller-skating babies'.
Diamond Jubilee Wine Offer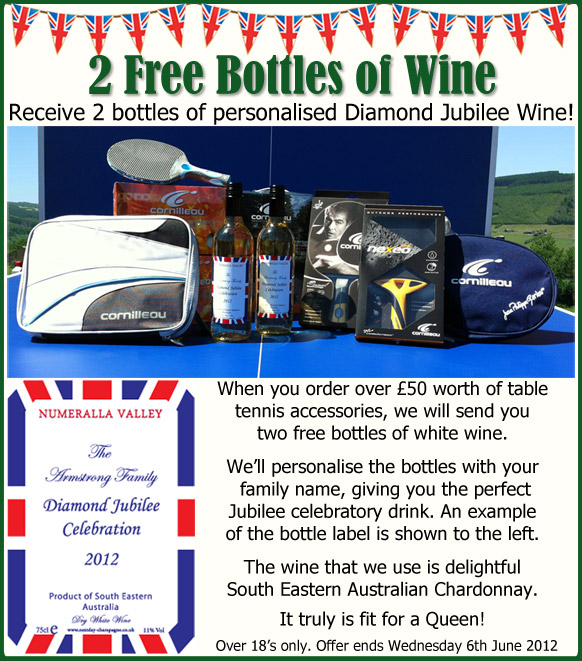 The Answers to The 'Spot The Difference' Game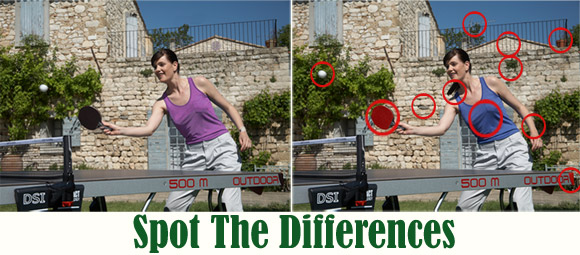 Position of the table tennis ball
Colour of the bat rubber
Position of the dark colour brick
The colour of the ladies top
Greenery on house
Ladies ponytail
Ladies watch
Round window on house
Colour of plant pot
Ariel on house
Colour of corner protector
Supporting our Troops
We recently received an email from a group of soldiers currently stationed in Afghanistan as part of the REME (Royal Electrical and Mechanical Engineers). We are delighted to say that we were able to meet their request for new bats and balls for their table, as theirs had seen better days. We received a very grateful email a few days later:
''Thankyou very much for your box of goodies, I was gobsmacked at your generosity! All of the lads out here I'm working with now think of you as a legend!
I have attached a couple of pictures with this email, I hope you like them.''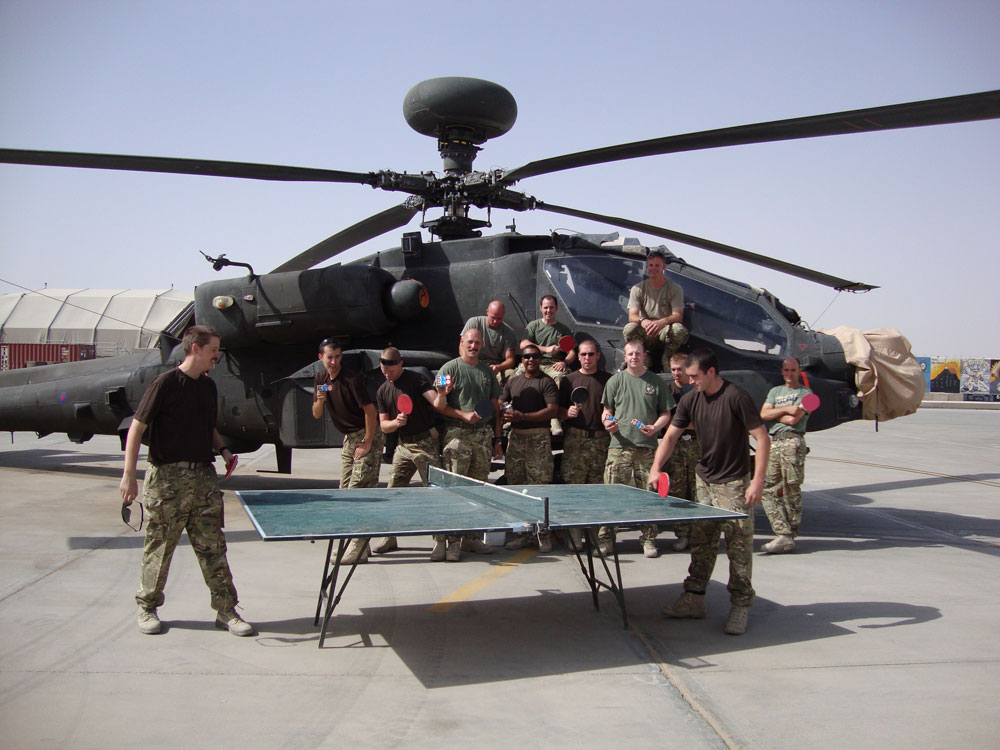 We hope they enjoy continuing to play table-tennis out there and wish them a safe return to the UK.
Charity Golf Day at Wentworth Golf Course, in association with Meningitis Research Foundation
The Meningitus Research Foundation recently held a charity event at Wentworth Golf Course. We were delighted to be able to provide them with two bottles of vintage Lanson Champagne, to be presented to the winners of their 'nearest the pin' challenge. The Meningitus Research Foundation funds research to prevent meningitis and septicaemia, and to improve survival rates and outcomes. They promote education and awareness, and give support to people affected by these conditions. If you wish to find out more about this highly beneficial charity or to make a donation yourself, please visit www.meningitis.org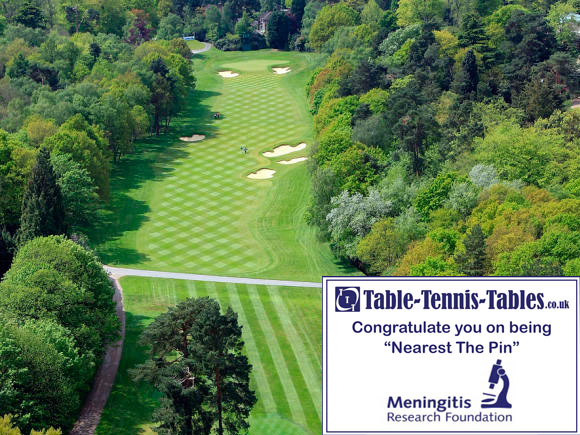 Butterfly Compact featured on Silent Witness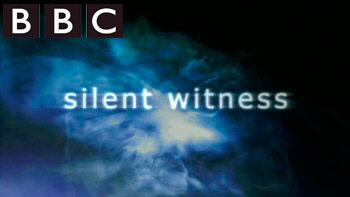 Recently we were contacted by the BBC, asking if we would be able to supply a table for the popular BBC One series Silent Witness. We were happy to help, providing them with a Butterfly compact table for use in a scene in the upcoming series. You can view this table here
Signed Table Auction for Children with Cancer UK, in association with Big Brother season 13
We were contacted by the producers of Channel 5's Big Brother series, asking if we would be able to loan a table for use in one of the housemate tasks and by the celebrities during their stay in the house. We were delighted to help, and in return they have agreed to assist us with our support for Children with Cancer UK. They will be getting all the celebrity contestants to sign the table, which will then be auctioned on ebay, with all proceeds going to Children with Cancer UK. We would like to thank Butterfly for their contribution to this worthy cause.

If you wish to be notified when the table goes up for auction, please email us your contact details. We will then get in touch when the series has ended and the table is up for sale.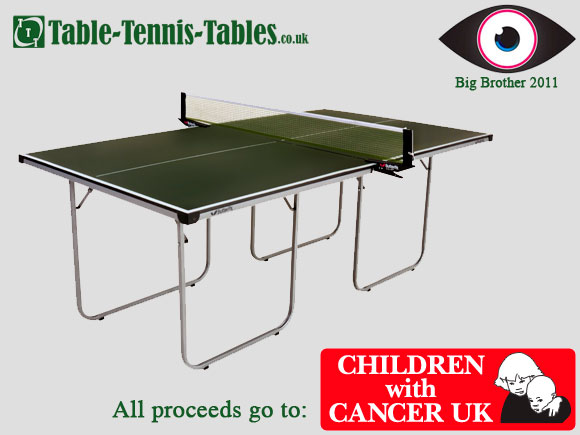 Free Gifts and Charity donation for referrals
We are very pleased to be affiliated with this charity and strongly encourage and support the work they do. Between 13th May 2011 and 15th June 2011 if you referred a friend who subsequently bought a full sized table tennis table we sent you £25.00 worth of free table tennis accessories and £10.00 was donated to the Children With Cancer UK registered charity. We hope to be able to work with them again in the future.

Children With Cancer UK is a British charitable organisation, inaugurated by Diana, Princess of Wales on 12 January 1988, that provides funding for research into the prevention and cure of childhood leukaemia including acute lymphoblastic leukaemia (lymphoid) (ALL) and Acute myeloid leukaemia (AML). It also supports families through welfare programmes and campaigns on their behalf. Children With Cancer UK is a member of the Association of Medical Research Charities and the National Cancer Research Institute.
If you would like to find out more about this wonderful charity and the work they do, Click Here.
Table tennis marathon in Bonn Square hosted by Modern Art Oxford.
We Recently Supported a Table tennis marathon in Bonn Square hosted by Modern Art Oxford. It was a free event that had a very successful turn out. The event was ran by an artistic team Search Party (Pete Phillips and Jodie Hawkes). It took place on Friday 25, Saturday 26 and Sunday 27 November 2011. We supplied a full size table tennis table and were very happy to assist with the event.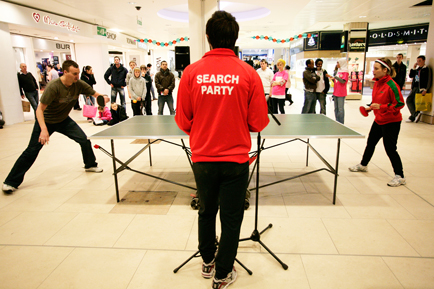 Here's Why We Are Your Best Option
Fast pre-booked delivery
High quality products, vast stock
No fake discounts, no gimmicks
Straightforward & honest advice
Best Delivery Options

Fast & Free Delivery to most of the UK

Established Over 20 Years

That's 2 decades of happy customers!