Here's Why We Are Your Best Option
Fast pre-booked delivery
High quality products, vast stock
No fake discounts, no gimmicks
Straightforward & honest advice
Best Delivery Options

Fast & Free Delivery to most of the UK

Established Over 20 Years

That's 2 decades of happy customers!
Table Tennis England
Table Tennis England -
We often have people ask whether or not we know of any Table Tennis clubs in their area or if we know of coaches that are local to them and many other similar queries. The answer is yes, that is why we have dedicated a page to Table Tennis England, as they offer a huge amount of information to people who would like to look into playing table tennis more seriously, and even those who already do play seriously.
On the Table Tennis England website you can find out the latest news on the Table Tennis scene, both locally to you and within the big tournaments. You can see photographs and watch various videos, including championships, coaching videos and many more. Here you can use the social networking to find other people in and around your area who are also interested in Table Tennis.
Table Tennis is not just a sport for young adult athletes, and this is made clear on the Table Tennis England website. Here you will be able to see the ranking list for the under 13 boys and girls all the way up to Veteran Men and Women, along with various images of many different players.
Becoming a member of Table Tennis England is very simple and there is only one short form to complete. You just need to decide which membership option you would like. There are three types of membership and each one allows you to play in different levels of competition. The following are the memberships available to you:
Player Member - Needed to play in League or County competitions

Player Member PLUS Player Licence - To play in most National, League & County competitions

Associate Member - For those who are NOT playing in the above competitions
What do these memberships include? Well on top of allowing you to play Table Tennis competitively your membership also includes the following:
As a member you will be part of the Sports National Governing Body.
You will receive regular Ezine updates via web, Facebook, Youtube, Flickr and Twitter
A single Insurance payment, for Comprehensive Public Liability Insurance, regardless of how much or little you play
Full time regional staffs are employed to assist Leagues, Clubs and Players in every region
There is a full events programme that takes place for all levels of players, covering Under 11ís to Veterans
Your membership will also enhance your communication between other Members and Table Tennis England and all that it has to offer you
National staff and programmes are also available to help develop the sport itself
The prices for the memberships do vary, and all junior players play at a reduced fee. The prices for each membership for both Junior and Adult, and in some cases, Cadet for 2010/11 are as follows: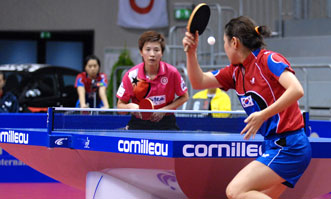 Player Member -
Cadet/Junior - £5
Senior - £10
Player Licence (Including
Player Member) -
Cadet - £16
Junior - £16
Senior - £32
Associate Member -
Annual Fee - Free