Butterfly Outdoor Sport Table Tennis Table: Discontinued
Discontinued

Why Us?
Watch Our Video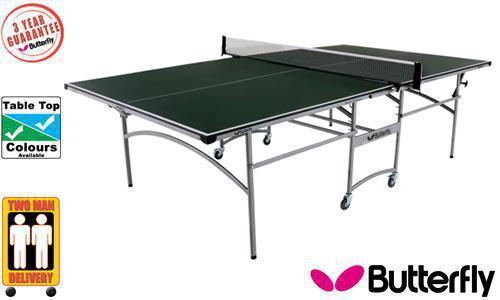 Butterfly Outdoor Sport Table Tennis Table: Discontinued
Discontinued

Why Us?
Watch Our Video
This Table Has Been Discontinued
To view the current outdoor Butterfly models please
click here.
We were never a big fan of this table so we donít feel that itís any great shame that itís been discontinued. For the money you were better off with the Easifold. The benefits of this table over the Easifold were that it stayed as a one unit when folded and the net stayed on the table. However, the disadvantages are that it wasnít as robust, the table top is not as thick (the Easifold gives a better bounce) and the storage position was not good. This is due to the fact there was a large gap between the table halves (which we thought was unsightly) and also allowed water to collect on the cover. The Easifold is also 95% pre-built whereas you had to assemble the Butterfly Sport.
Table Dimensions and Information
Table size:
275cm long x 153cm wide x 76cm high ( 9' long x 5' wide x 2'6'' high)
Minimum play area:
5.1m long x 3.3m wide ( 17' long x 11' wide), guideline only.
Storage size:
190cm high x 184cm wide x 65cm deep
Available in Green or Blue
Suitable for indoor and outdoor use
10mm Plywood playing surface
Strong metal frame round underneath of the table top
Two locking devices on each half
Playback facility
Fixed net and posts set
3 Year guarantee on table (bats, balls, net and post not covered)
Additional Information
Weight:
77kg
Including Packaging:
87kg
Assembly:
Allow 60-90 minutes for assembly before first use