Here's Why We Are Your Best Option
Fast pre-booked delivery
High quality products, vast stock
No fake discounts, no gimmicks
Straightforward & honest advice
Best Delivery Options

Fast & Free Delivery to most of the UK

Established Over 20 Years

That's 2 decades of happy customers!
Table tennis tables for holiday parks and campsites
Campsites and Holiday Parks -
We regularly supply table tennis table for environments such as campsites and holiday parks. We've highlighted below information to help you choose the correct table for your needs...
These are the reasons we would recommend a table tennis table as a piece of leisure equipment :
Table tennis is very much a family sport and can accommodate up to four people at once.
It's enjoyed by virtually all ages, you'll often see three generations involved in the same game.
The great thing about table tennis is that you can play it seriously for a vigorous workout or just have a gentle knock-about without getting too hot and sweaty, which puts many people off other sports.
Table tennis is an inexpensive sport. Choose the right table tennis tables and it will last for many years.
Table tennis is not a sport that requires a huge amount of health and safety regulations, therefore making it a fairly simple addition to a leisure site.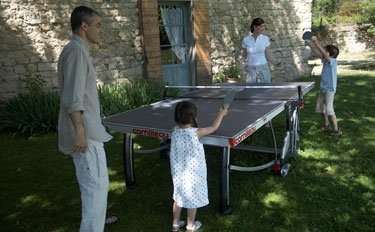 Some table tennis tables may not be able to withstand the amount of use and perhaps the type of use that they often receive at campsites and holiday parks & traditional bats can be easily broken. However we offer a selection of products that are specifically designed to stand up to this usage :
We've tables available that can be fixed into the ground to reduce the risk of theft and that are able to withstand all sorts of use.
These tables have fixed metal nets which prevent them from being removed or easily damaged.
We offer a range of table tennis bats that have been created by Cornilleau, in collaboration with Michelin, that are virtually indestructible and completely weatherproof. This makes them incredibly durable for campsites and holiday parks.
We have categorized some of the table tennis tables that we feel would be ideal in a campsite and holiday park environment. Click on the following links to see the tables we have recommended: