Here's Why We Are Your Best Option
Fast pre-booked delivery
High quality products, vast stock
No fake discounts, no gimmicks
Straightforward & honest advice
Best Delivery Options

Fast & Free Delivery to most of the UK

Established Over 20 Years

That's 2 decades of happy customers!
Kettler Brand Information



Sadly, after a great many years as a leading table tennis brand, Kettler Germany have gone bankrupt.
Kettler GB are still going strong and will continue to supply their high-quality garden furniture and BBQ's. However, all the table tennis equipment was manufactured by Kettler Germany so this range has been stopped with immediate effect.
Having dealt with them for over 20 years it's a real shame to have them disappear and to see so many of their hard-working staff lose their livelihoods.
14th August 2020

The name of KETTLER stands for highest standards of quality, technical innovation and unique design. The reliability and durability of their products have also added significantly to their excellent reputation.
This applies equally to their indoor-sport and table-tennis equipment. As a manufacturer of high-quality indoor and outdoor table-tennis tables, KETTLER has accumulated a degree of know-how which is highly acclaimed. They now export their high quality table-tennis products to over 60 countries and have become one of the leading names in this field.
Production "Made in Germany"
KETTLER produces all the articles in its table-tennis line in Germany. The uses of innovative technologies and highest quality materials as well as incessant quality control underline the quality statement "Made in Germany".
Their production line has its own ISO-certified tube-drawing plant equipped with modern laser units and high-precision welding robots. From the table-tops to the anti-corrosion metallic painting of the frames and high-quality plastic parts, their table-tennis tables are manufactured from start to finish in their own works.
Innovation and Expertise
KETTLER combines expertise with constant striving for production improvement and excellent knowledge of the requirements of modern leisure activities. The result is outstanding innovation, as seen in their unique ALU-TEC compound table top. The fixed net with automatic tensioning (DEGBM), the ultramarine-blue playing services with UV-resistant coating, and the tabletop guide and safety system (DEGBM) are also among KETTLER's pioneering developments.
Safety of the Highest Standard
For KETTLER, safety has supreme priority. All their products undergo extensive testing, in the course of which their tilt safety, loading-capacity and stability are given special attention. With additional material and fatigue testing of the locking and safety systems, KETTLER guarantees the consistently high level of quality and safety of all its table-tennis tables.
To reduce the accident risk, KETTLER has also developed a special tabletop-support and safety system (registered utility model / DEGBM). This system with automatic folding lock ensures safe and easy handling.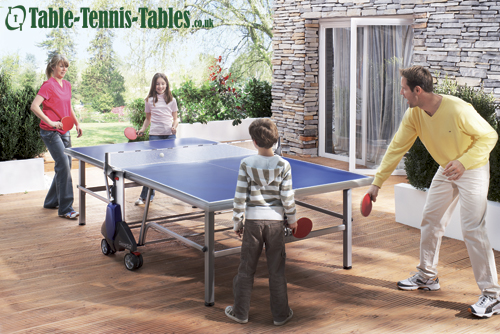 The Revolution:
Outdoor Tables With ALU-TEC
As early as the 1960's, their engineers discovered the positive attributes of aluminium for table tennis. Even today, their aluminium compound table-tops are regarded as a pioneering technology in the development of weather resistant table-tennis tables. Their latest improvement in this line is the aluminium compound table ALU-TEC, another milestone in the history of outdoor tables. ALU-TEC is synonymous with toughness and endurance.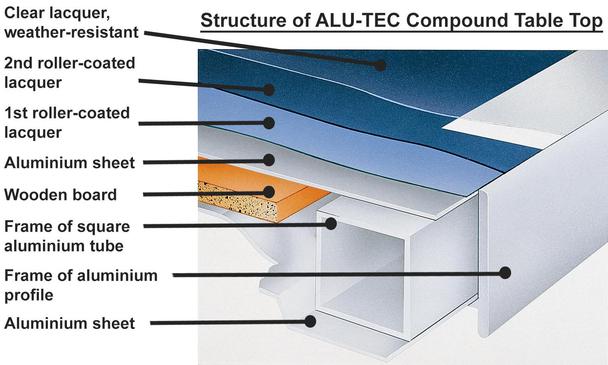 Following an extensive series of stress and stability tests, all KETTLER outdoor table tennis tops are fitted with ALU-TEC. The materials are tested with reference to the bounce behaviour of the ball and their reaction to various climatic conditions. The special coating developed by KETTLER provides the perfect anti-dazzle and UV-resistant surface, thereby preserving its playing characteristics over long periods of time. The ultramarine blue colour of the lacquer chosen for the playing surface and the related test processes all involve the strictest criteria. Our confidence in the unique structure of the table tennis surface and the high quality of our production is such that we give a guarantee of no less than 5 years on the weatherproof ALU-TEC compound table top.