Butterfly Outdoor Playback Rollaway: Discontinued
Discontinued

Why Us?
Watch Our Video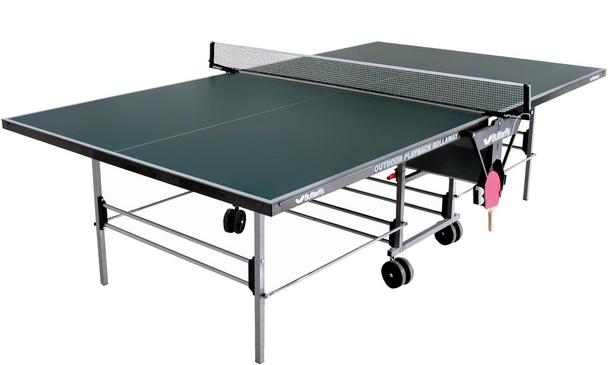 Butterfly Outdoor Playback Rollaway: Discontinued
Discontinued

Why Us?
Watch Our Video
This Table Has Been Discontinued
If you're interested in finding a similar model or something upgraded, please call us on 01371 875000 and we'll be delighted to offer some friendly, expert advice.
To view the current outdoor Butterfly models please
click here.
The Butterfly Outdoor Playback Rollaway Table Tennis Table was discontinued in the summer of 2015. It was a very old fashioned looking table when compared to the more modern designs that can be seen now in the Cornilleau, Kettler and Butterfly outdoor ranges. The biggest disadvantage was that the storage position wasn't good. This is due to the fact there is a large gap between the table halves, which we found unsightly, and it also allowed water to collect on the cover which caused pressure on the table and cover.
Table Dimensions and Information
Table size:
275cm long x 153cm wide x 76cm high ( 9' long x 5' wide x 2'6'' high)
Minimum play area:
5.1m long x 3.3m wide ( 17' long x 11' wide), guideline only.
Storage size:
188cm high x 178cm wide x 66cm deep
Butterfly Playback rollaway user manual, parts list and build instructions
Suitable for indoor and outdoor use
5mm melamine resin playing surface
Strong metal frame round underneath of the table top
Plastic coated square tubed undercarriage 25mm x 25mm
Playback facility
Fixed net and posts set
4 independent double wheels
Additional Information
Weight:
60kg
Including Packaging:
68kg
Assembly:
Allow 60-90 minutes for assembly before first use