Super Schools Pack Tacteo Edition
£323.99
Out of Stock

Why Us?
Watch Our Video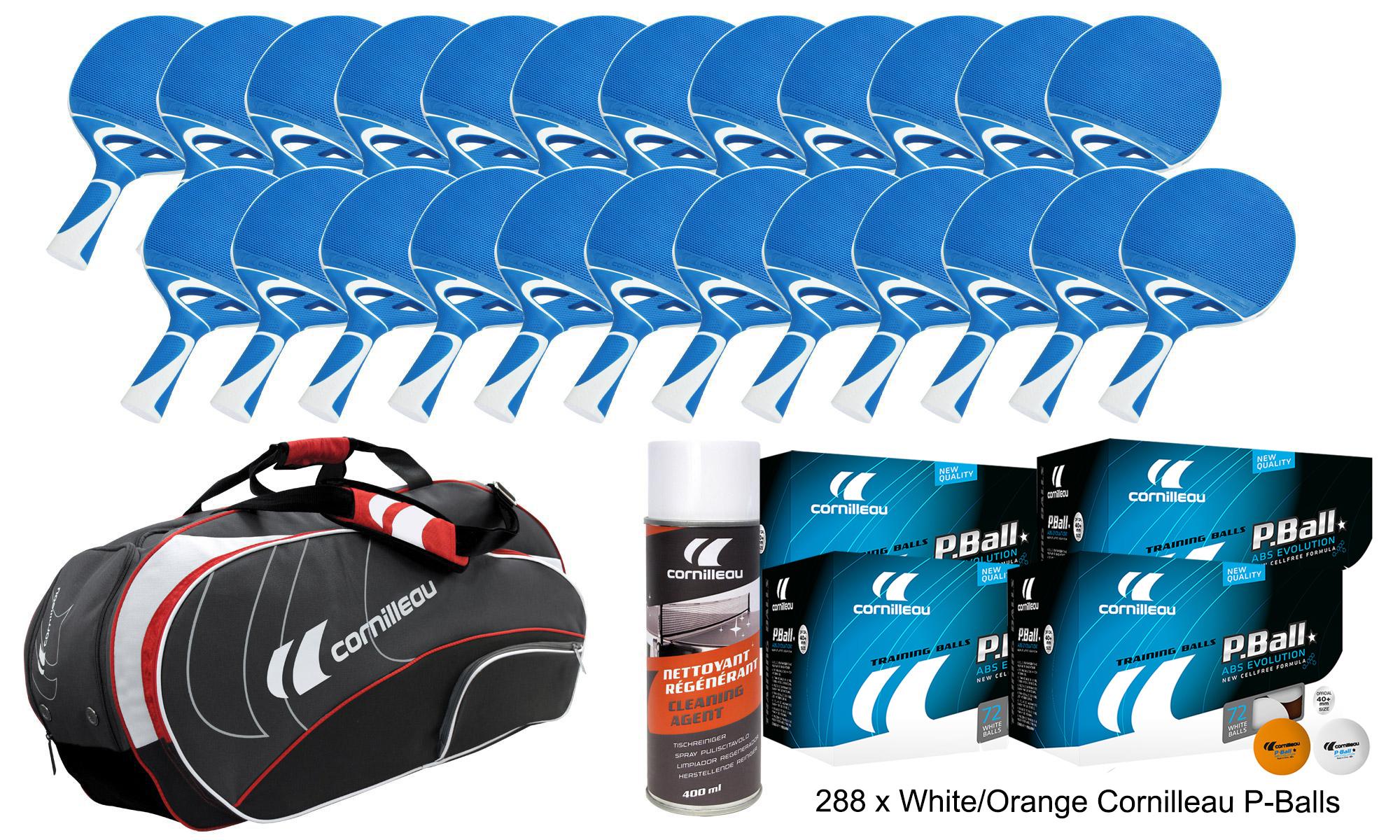 x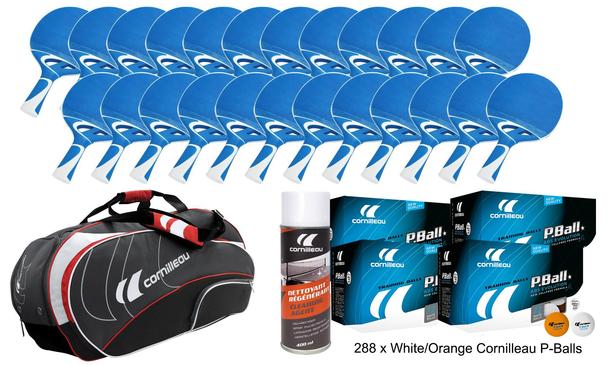 Super Schools Pack Tacteo Edition
£323.99
Out of Stock

Why Us?
Watch Our Video
Want to be told
when it's back?Click to register interest
Pro review and bat information
With 288 balls, 24 completely weatherproof and highly durable bats, 1 table cleaning spray as well as a handy high quality holdall. This package is the perfect choice for a school or table tennis club.
Cornilleau Tacteo 30 Weatherproof Bats -
These bats are completely weatherproof & shock resistant, making them perfect for outdoor table tennis.
They can be left outside all year round without getting ruined. The rubbers do not peel off like traditional bats, so they're very long lasting. The Tacteo 30 is designed for use in schools, youth clubs & sports centres. Please note that both sides are the same colour so this cannot be used in competitions where the rules state one side should be black and the other red.
The Blade: Polymer
Rigidity: +1
Technology: ADS
Handle: Flared, Soft touch grip
Speed: 5/10
Spin: 5/10
Control: 8/10
Weight: 171g
Cornilleau P-Balls -
These good quality 40mm balls are ideal for intensive training in schools, sports centres and clubs, or for serious home users.
Cornilleau FITTCARE Sports Bag -
Stylish high-quality polyester sports bag from Cornilleau with shoulder strap and carry handle. Large enough to hold several sets of bats and balls, as well as clothes/shoes in a specially designed compartment.
Size - 78cm x 38cm x 33cm
1 main compartment
2 large side pockets
2 compartments designed for storing shoes/damp clothes
Cornilleau Cleaning Spray -
A very efficient foam, specially formulated to clean table tennis tables. Renovates the appearance and restores optimal response to spin. 400ml spray can.
What the package includes & delivery information
1 x Cornilleau sports bag
1 x Cornilleau cleaning spray
24 x Cornilleau Tacteo 30 weatherproof bats
288 x Cornilleau P-balls White/Orange
Orders received by 4pm (Mon - Fri) are despatched same day. Approximately 97% arrive the next working day.
Accessory orders are delivered using either DPD or Royal Mail (dependent upon the total weight and value of your order).
Once despatched you will be emailed with your tracking details (where applicable).
Table tennis bats carry a limited 1 year guarantee (excludes physical damage and normal wear & tear).