Gallant Knight Swordsman Solo Set
£16.99
In Stock

Why Us?
Watch Our Video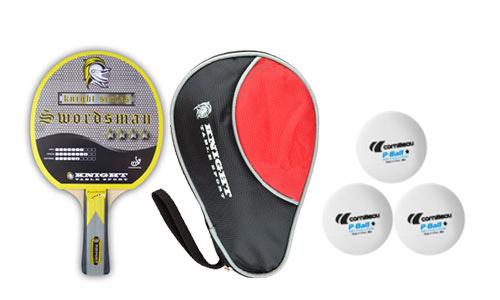 x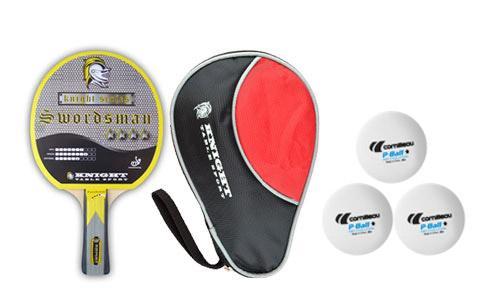 Gallant Knight Swordsman Solo Set
£16.99
In Stock

Why Us?
Watch Our Video
Enter your details and we will get back to you
Pro Review
This pack is an excellent for a player who wants to improve whether it be at home, school or a club. The Gallant Knight Swordsman has a 4 star ITTF approved rubber and having the bat case will protect the bat when itís not being used, the case also hold three balls.
Package Includes
The Gallant Knight Swordsman is an ideal bat for a player who plays regularly and has mastered the basic playing techniques and tactics. Made from poplar and linden wood, with 1.8mm of sponge the swordsman has a 4 star ITTF approved rubber.
This Gallant Knight table tennis bat case is made from high quality polyester and has a foam lining to ensure that your table tennis bat stays is great condition. Itís ideal for carrying your bat to table tennis practice and competitions, or for storing it when not in use. It has two zipped compartments, one for your bat and the other holds up to three balls. Itís red and black with some white detailing and the Gallant Knight logo on the front.
The Cornilleau 1 Star ABS Balls is a quality ball for training purposes.
Products Included
The Gallant Knight Swordsman 4 star table tennis bat.
The Blade: 6mm poplar & linden wood
Sponge: 1.8mm
Rubber: ITTF Approved
Handle:Concave
Speed: 8/10
Spin: 7/10
Control: 6/10
Technology:
Trampoline Tension Technology: The unique Trampoline Tension Technology gives the rubber and sponge high tension like a trampoline, the rubber can either absorb the attacking ball or spring it away!
Gecko Adsorption Techonology: Due to the Gecko Adsorption Technology applied to the rubber surface, It retains the ball on the rubber for longer, which means you have better control of the speed and spin of the ball
SMF: Symmetrical Microcellular Foam Technology
Gallant Knight table tennis bat case
Protects your bat
Holds 1 bat and 3 balls
Two zipped compartments
Nylon carry strap
Great value
3 x Cornilleau ABS 1 Star Table Tennis Balls.
Delivery Information
Orders received by 4pm (Mon - Fri) are despatched same day. Approximately 97% arrive the next working day.
Accessory orders are delivered using either DPD or Royal Mail (dependent upon the total weight and value of your order).
Once despatched you will be emailed with your tracking details (where applicable).
There is a £3.50 delivery charge for orders under £50 (free when over).