Cornilleau Nexeo X200 Graphite Outdoor Table Tennis Bat
£74.95
In Stock

Why Us?
Watch Our Video
x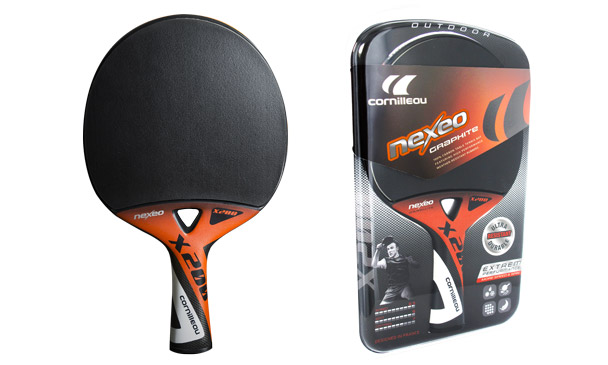 Cornilleau Nexeo X200 Graphite Outdoor Table Tennis Bat
£74.95
In Stock

Why Us?
Watch Our Video
Enter your details and we will get back to you
Pro review and bat information
The Ultimate Outdoor Table Tennis Bat. The Nexeo X200 offers a really high level of performance whilst weighing in at just 145g. This makes it almost 20% lighter than its closest rival (the Nexeo 90). This weight reduction is achieved by using Graphite for the paddle. The added benefit of a Graphite paddle is increased rigidity, which in turn leads to increased speed, allowing this 'lightweight' bat to pack a 'heavyweight' punch. This is a great outdoor bat for players who seek to get the best out of their game whilst still benefiting from the incredible durability and weatherproofing of the Nexeo range. Please note that this bat cannot be used in league competitions due to the fact it's black on both sides (in league competition you have to use a red and a black rubber)
The rubbers do not peel off like traditional bats, so they're very long lasting.
Blade: Carbon fibre inside the blade increases propulsion for greater speed.
Handle: The Nexeo's elastomer handle, with its ergonomic form, ensures optimal grip.
Sponge: Its dynamic sponge ensures fast play.
Speed: 9.5/10
Spin: 9/10
Control: 7.0/10
Weight: 160g
What the package includes & delivery information
Orders received by 3pm (Mon - Fri) are dispatched same day. Approximately 97% arrive the next working day.
This item is delivered using DPD.
Once dispatched you will be emailed with your tracking details (where applicable).
There is a £3.50 delivery charge for orders under £50 (free when over).
Table tennis bats carry a limited 1 year guarantee (excludes physical damage and normal wear & tear).