Roberto Sport Revolution Football Table
£1499.00
In Stock

Why Us?
Watch Our Video
x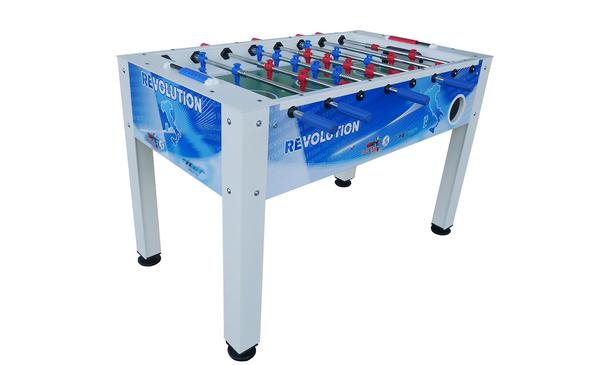 Roberto Sport Revolution Football Table
£1499.00
In Stock

Why Us?
Watch Our Video
Enter your details and we will get back to you
Pro Review
Currently ranked as the Number one Football Table by the International Table Soccer Federation, the Sports Revolution is top of the line football table for any game or competition, recently featured as the official football table for the Spanish world cup (2019). Currently the Sports Revolution football table is the official table of:

ITSF (International Table Soccer Federation)
LICB (Italian League Football Table)
Created using multi-layered poplar plywood stiffened with two external birch sheets for a total thickness of 30mm ensuring the table is durable and resistant to the roughest of matches. The Football Table comes with telescopic rods with a diameter of 18mm created out of high resistance tempered steel with a treatment of double chrome plating to avoid any formation of rust.
Delivery information
Delivery is free and is usually within 3-6 working days. You will be called by our couriers to book a convenient delivery day. Please call 01371 875000 if you require more information.
2 year warranty on table
Product Information
Construction: cabinet is made of 30 mm thick multi-layered poplar plywood hardened by two birch laminate sheets
Playfield surface: made of plastic laminate milled accurately to remove any difference between the playfield panel and the side trim
Playing Dimensions: 138cm x 80cm x 90cm
Table Legs: 80×80 Corner iron legs painted with epoxy powder jointed self-levelling foot for total adherence on floor.
Table Feet: Adjustable feet
Table Rods: Comes standard with telescopic 18 mm drawn steel double plated rods to prevent rust forming.
Table Handles: Handles are made of rubber latex for a perfect grip and reduce hand sweating.
Colour: White and Blue with Red/Blue figures
Weight: 85KG
Packaged Size: 55" x 32" x 12" (140cm x 80cm x 31cm)
Packaged Weight: 88KG
Roberto Sport Revolution - manual, parts list and build instructions
TTT TV - Watch our videos now