Kettler AXOS 1 See the Kettler Axos 3 - on sale - only £10 extra
£249.00
Out of Stock

Why Us?
Watch Our Video
Kettler AXOS 1 See the Kettler Axos 3 - on sale - only £10 extra
£249.00
Out of Stock

Why Us?
Watch Our Video
Enter your details and we will get back to you
Pro review
There's never been a better time to upgrade to the Axos 3 - it's currently on a special and is only £10 more! The Kettler Axos Indoor 1 took over from the Spin 1. The good points first: As with all Kettler indoor tables the Axos 1 has a very well finished 19mm thick playing surface and is supplied with a good quality net and post set, four descent bats and twelve balls. However, unlike most Kettler tables, the Axos 1 requires two people to open it, the net has to be removed every time it's folded, and only two of the four wheels steer (the other two are set pointing in one direction making it more awkward to move).
The benefits of the next model up (the Axos 3) are that it can be opened and closed by one person, the net stays on the table when folded, and all four wheels steer.
What the package includes & delivery information
UK mainland delivery is free* and usually within 1 - 3 working days (charges apply for offshore and some very remote locations). We offer a pre-booked, two-man delivery service. You should receive a text the working-day before your delivery day with an estimated two-hour window. On the day of delivery you should also be able to track the progress of the delivery driver online. Please call 01371 875000 if you require more information.
3 year guarantee on top and undercarriage
4 x Knight Lionheart bats, 12 x plain Knight balls (6 White + 6 Orange)
The net & post set is part of the standard package from Kettler. Some retailers claim they themselves are giving this as a 'free of charge' extra; they even include it as part of the value of the free accessories!
Unlike most suppliers who offer two, very basic bats with their tables, at Table-Tennis-Tables.co.uk we're giving FOUR Knight Lionheart 3 Star and 12 table tennis balls, absolutely free! Yet another great reason to choose Table-Tennis-Tables.co.uk.
*Deliveries to Highlands & Islands and some very remote areas carry a surcharge CLICK HERE for details
Table information (dimensions, materials, etc.)
Table size:
274cm long x 152.5cm wide x 76cm high (9' long x 5' wide x 2'6" high)
Minimum play area:
5.1m long x 3.3m wide (17' long x 11' wide), guideline only
Storage size:
171cm high x 153cm wide x 57cm deep
Suitable for indoor use only
19mm playing surface
Playback facility
Removable clamp net & post set
Four wheels
Assembly: Allow 2 hours for self-assembly
Kettler Axos 1 user manual, parts list and build instructions
TTT TV - Watch our videos now
See it in action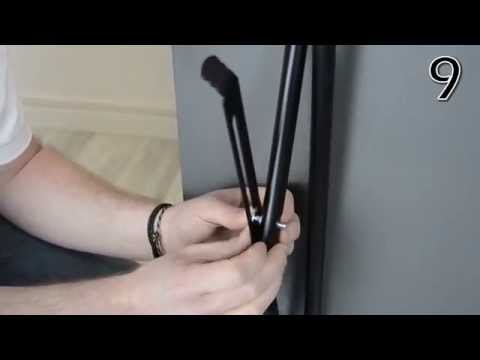 Assembly Video for Kettler Axos 1 Table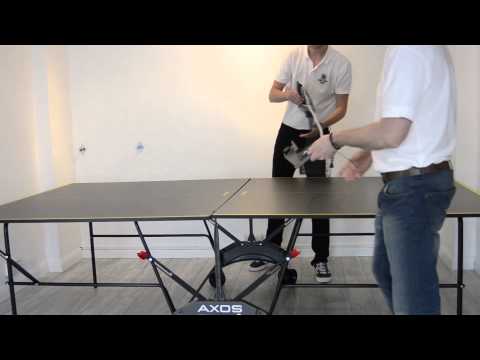 Product Video for Kettler Axos 1 Indoor Table