Gallant Knight Cadet (3/4 Sized) Indoor Table Tennis Tables
£149.00
Out of Stock

Why Us?
Watch Our Video
Gallant Knight Cadet (3/4 Sized) Indoor Table Tennis Tables
£149.00
Out of Stock

Why Us?
Watch Our Video
Add Accessory Set
For Just £9.99
click for details
Want to be told
when it's back?Click to register interest


Watch
Hazard vs Courtois on this table
»


Pro review
The Gallant Knight Cadet is a fantastic table for those who don't have the space for a full-sized indoor table, but still want good quality. Where all the other smaller tables (often referred to as junior tables) have 12mm tops, the Gallant Knight Cadet benefits from a 15mm playing surface (so the bounce is better than all the others) with a strong metal frame. This is 3/4 length but slightly wider than the other Juniors on the market, giving a more realistic game and allowing for doubles play (whilst still being small enough to fit in most homes). It also has adjustable feet so you can level it if necessary (which are not found on any similar model from the other manufacturers). The net and post set is really well made and very good quality. This is a two piece junior table with a clip-on net. Is can be stored away very quickly taking up minimal space and is easily moved on the two wheels that are hidden on the underside of both tops. All-in-all this is definitely 'the best in class'.
What the package includes & delivery information
Delivery is free* and despatched with TNT and is usually next working-day if ordered before 11.30am (on a working day). You will receive an e-mail the day we despatch your order to confirm it is on its way. Upon arrival the TNT driver will need assistance unloading this table. TNT deliver between 8am and 6pm (Mon to Fri). Please call if you require more information - 01371 875000.
PLEASE NOTE: Surcharges may apply for some Scottish postcodes or offshore locations, please call for more information.
3 year guarantee on table
Good quality net & post set
Table information (dimensions, materials, etc.)
Table size:
206cm long x 120cm wide (150cm with net) x 75cm high (6'9" long x 3'10" wide x 2'6" high)
Minimum play area:
4.3m long x 2.8m wide (14' long x 9' wide), guideline only
Storage size:
106cm high x 120cm wide x 8cm deep
Weight:
38kg
Packaged weight:
44kg
Suitable for indoor use only
Blue 15mm playing surface
Metal undercarriage and frame
Two wheels on each half for easy movement
Two separate halves with folding legs for compact storage
Assembly: None required
TTT TV - Watch our videos now
See it in action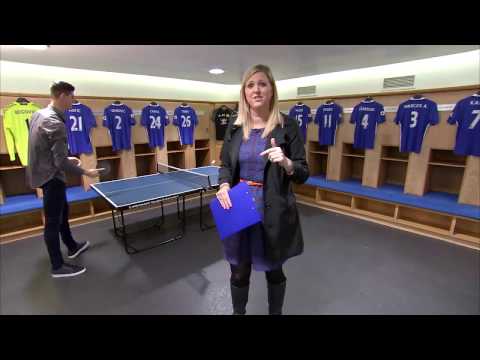 Hazard vs Courtois on The Gallant Knight Cadet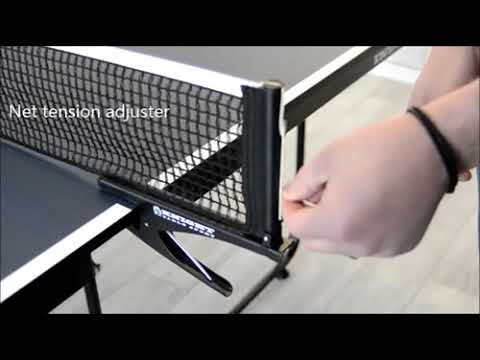 Gallant Knight Cadet 3/4 Table Tennis Video