Table Tennis Tables Donated by Table-Tennis-Tables.co.uk

Wiff Waff Bar

Free Accessories For The Soldiers in Afghanistan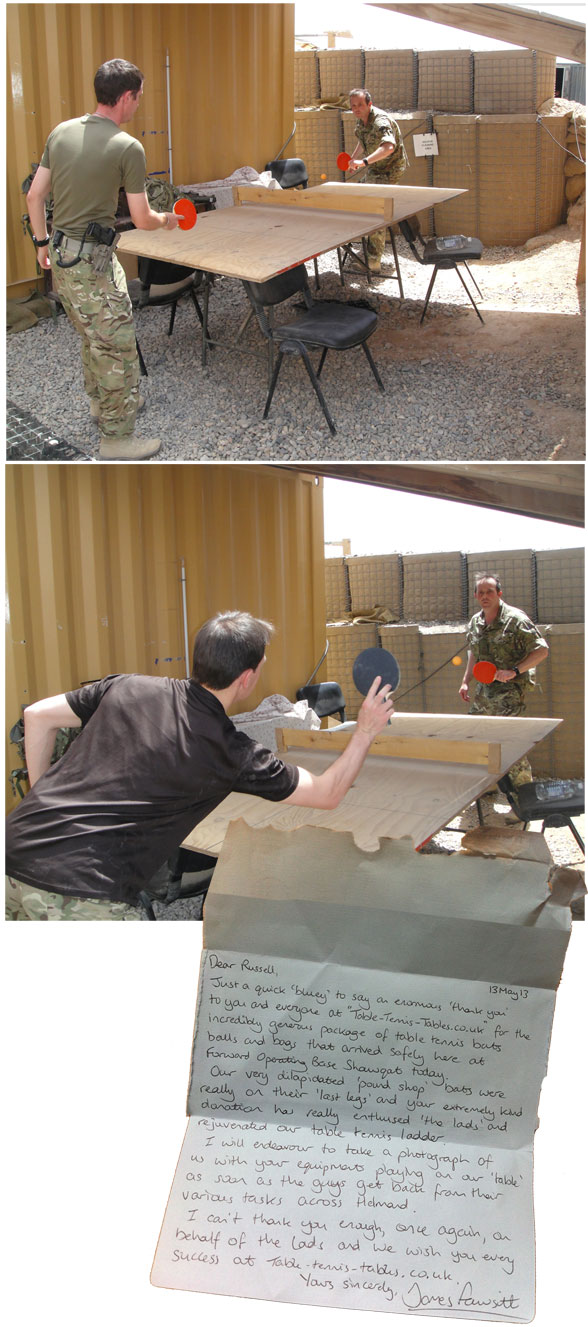 Champagne Donation For Meningitis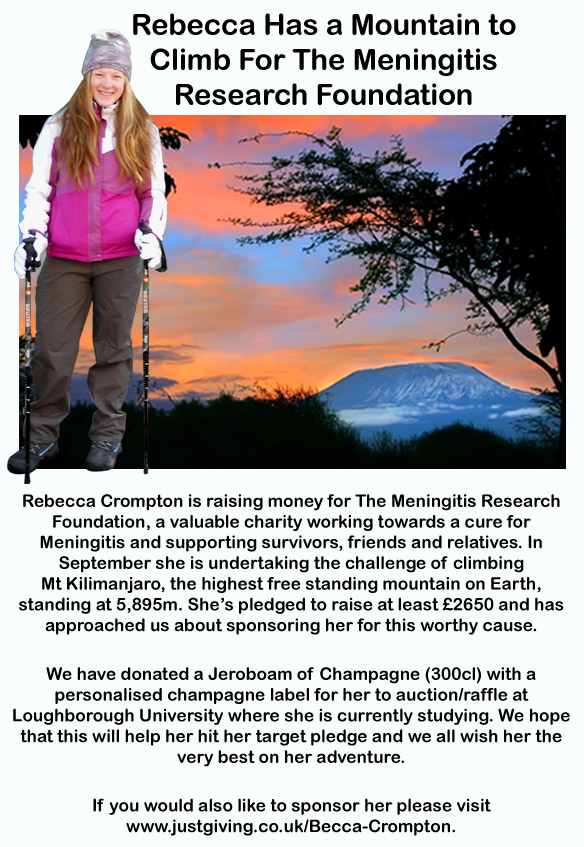 Golf Bag Signed By Sandy Lyle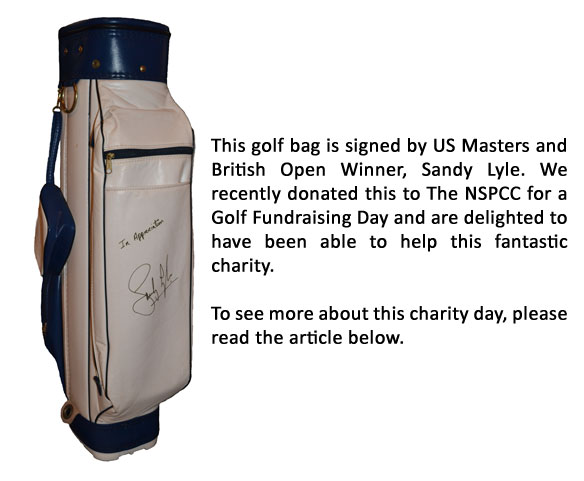 A Table Tennis Gift For The Residents Of BAC O'Connor Centre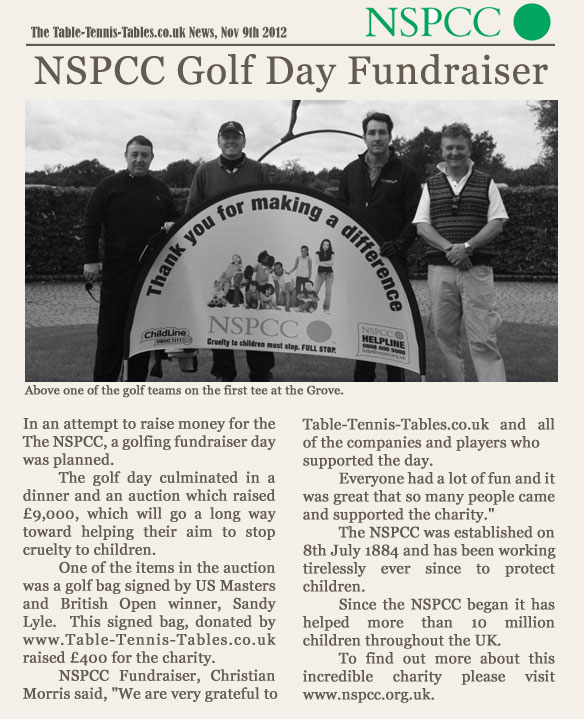 Table-Tennis-Tables.co.uk is delighted to have been able to support the NSPCC.
The Saracens Enjoying The Table Tennis Table We Supplied
17th October 2012….
Table tennis is a great game for all ages and athletic abilities. Our customers range from pre-schoolers to world-class professional athletes.
We were delighted to supply a table tennis table to Saracens Rugby Club recently.
The players at Saracens enjoy the game to wind down after a gruelling days training, but always display their competitive nature at the table. They were kind enough to send us the video below.
Saracens is a club steeped in History. Dating back to the 18th Century, they've enjoyed huge success through the ages.
If you would like to take in a Saracens game please visit their website at www.saracens.com for their latest fixtures.
It's fun for the whole family and the atmosphere is truly electric.
We'd like to wish Saracens a successful season and thank them for their custom!
Never Too Young to Start!
This clip was filmed at Woolwell Table Tennis Club and shows 18 month old Jamie playing multi-ball (which is a repetitive practice technique) with his father Kevin. They have been "playing" table tennis together since Jamie was just 6 months old. Kevin originally made the video to send to his partner's family, but it has now become a huge YouTube hit, which to date has had over 1.5 million views. Table tennis certainly runs in the family. Kevin's partner Marketa is a former champion from the Czech Republic and his older son is also showing great promise. We wish them all good luck with their training and hope the children enjoy a long and happy playing career.
Nor Too Old To Start!
Meningitis Research Foundation Charity Golf Day 12th October 2012
We are delighted to be able to support the Meningitis Research Foundation for the second time. We have once again supplied two Champagne gifts as prizes for their Charity Golf Day at the legendary Wentworth Golf Club. This year Deutsche Bank is sponsoring MRF's annual golf day, and teams from Deutsche Bank will take part along with other business partners including City AM, Sky, Yahoo, Google, News International, ITV, Channel Five and more. If you would like to enter a team and help support the essential work carried out by the Meningitis Research Foundation please contact them on 01454 280418.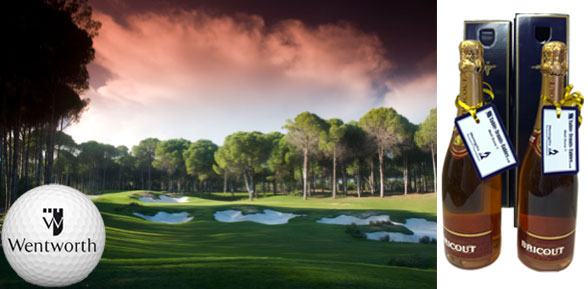 "The Flower Pot Gang" TV Show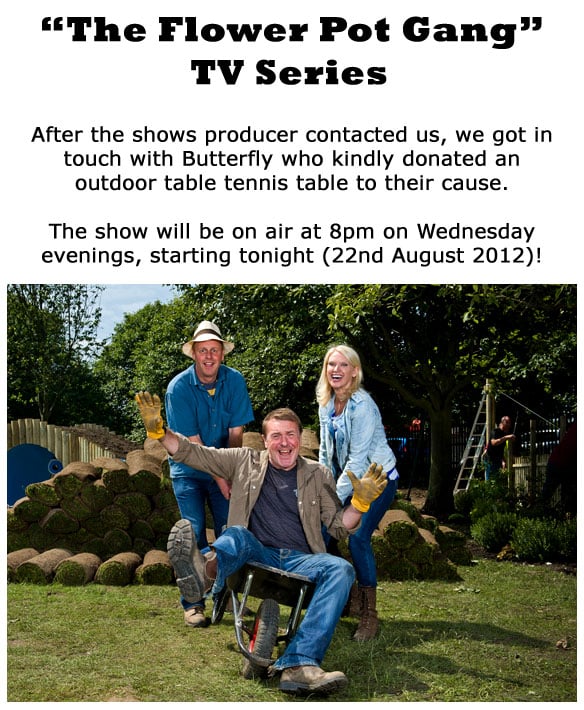 A Table Tennis Gift For The Residents Of BAC O'Connor Centre

Table-Tennis-Tables.co.uk is delighted to have been able to support the BAC O'Connor Centre.
We wish all of the residents the best of luck for the future.
Chill out time at Centroid Motion Capture

More and more companies are buying tables for their staff.
Centroid Motion Capture recently purchased a Cornilleau Sport 500. They now enjoy regular ping pong rallies during breaks…So keen to get to the tables, they often play in their work clothes.
For most of us this would look too amusing, but the guys from Centroid are wearing special Motion Capture suits as they are in the character animation business.
The company based at Pinewood Studios, are leaders in movie animation production and boasts the most cutting edge technology. They have been involved in the production of a great many blockbuster movies, such as Prometheus and James Bond. Their services also aid the production of high-tech video games and some amazing TV commercials, such as the award winning Evian 'Roller-skating babies'.
Diamond Jubilee Wine Offer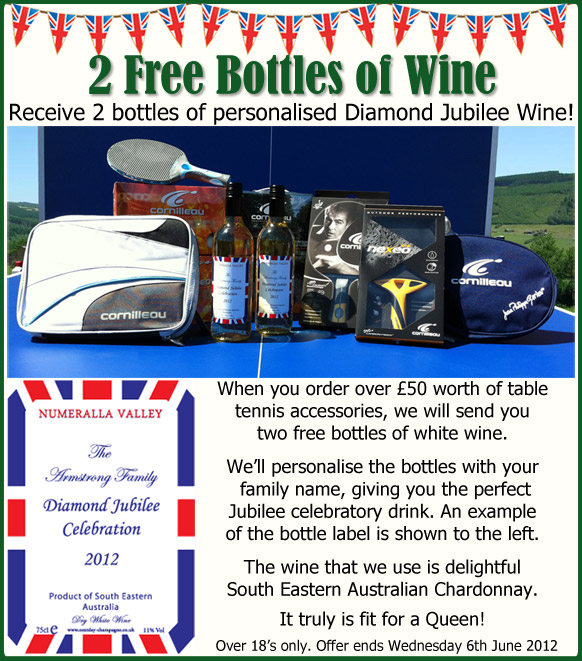 The Answers to The 'Spot The Difference' Game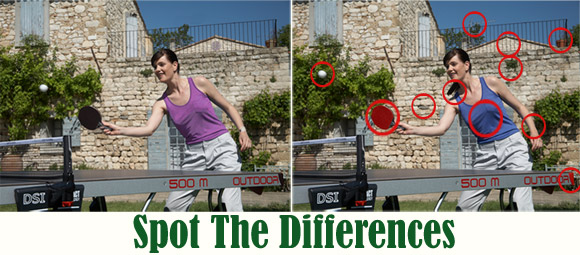 Position of the table tennis ball
Colour of the bat rubber
Position of the dark colour brick
The colour of the ladies top
Greenery on house
Ladies ponytail
Ladies watch
Round window on house
Colour of plant pot
Ariel on house
Colour of corner protector
Supporting our Troops
We recently received an email from a group of soldiers currently stationed in Afghanistan as part of the REME (Royal Electrical and Mechanical Engineers). We are delighted to say that we were able to meet their request for new bats and balls for their table, as theirs had seen better days. We received a very grateful email a few days later:
''Thankyou very much for your box of goodies, I was gobsmacked at your generosity! All of the lads out here I'm working with now think of you as a legend!
I have attached a couple of pictures with this email, I hope you like them.''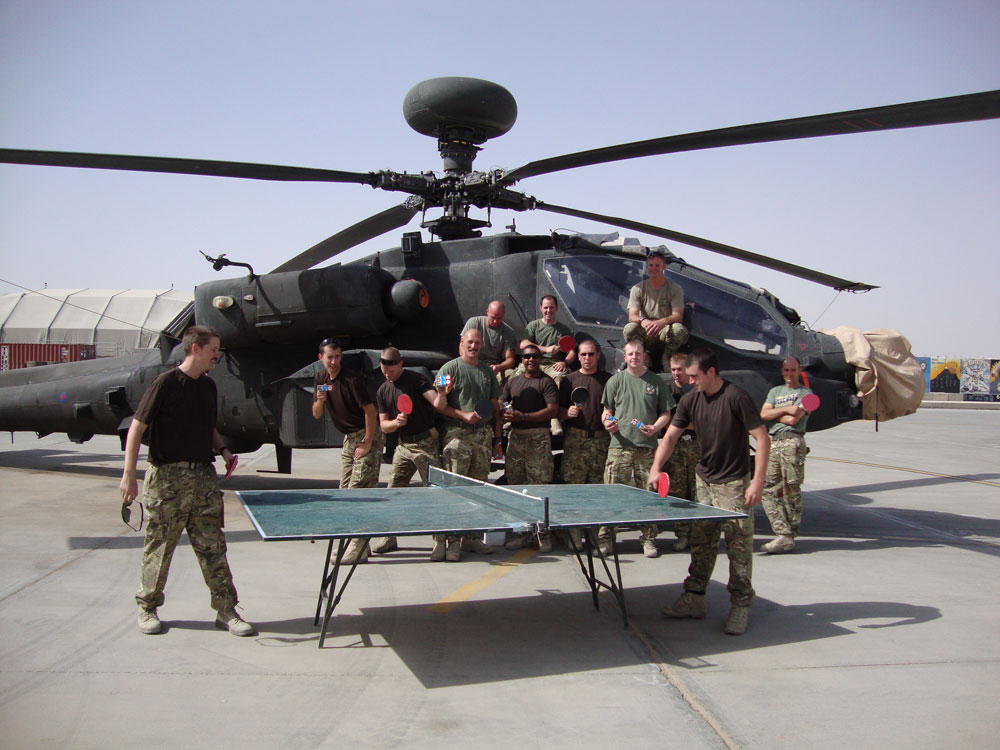 We hope they enjoy continuing to play table-tennis out there and wish them a safe return to the UK.
Charity Golf Day at Wentworth Golf Course, in association with Meningitis Research Foundation
The Meningitus Research Foundation recently held a charity event at Wentworth Golf Course. We were delighted to be able to provide them with two bottles of vintage Lanson Champagne, to be presented to the winners of their 'nearest the pin' challenge. The Meningitus Research Foundation funds research to prevent meningitis and septicaemia, and to improve survival rates and outcomes. They promote education and awareness, and give support to people affected by these conditions. If you wish to find out more about this highly beneficial charity or to make a donation yourself, please visit www.meningitis.org
Butterfly Compact featured on Silent Witness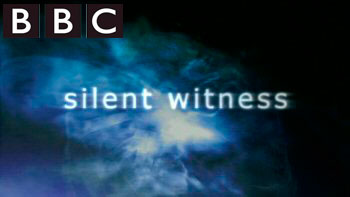 Recently we were contacted by the BBC, asking if we would be able to supply a table for the popular BBC One series Silent Witness. We were happy to help, providing them with a Butterfly compact table for use in a scene in the upcoming series. You can view this table here
Signed Table Auction for Children with Cancer UK, in association with Big Brother season 13
We were contacted by the producers of Channel 5's Big Brother series, asking if we would be able to loan a table for use in one of the housemate tasks and by the celebrities during their stay in the house. We were delighted to help, and in return they have agreed to assist us with our support for Children with Cancer UK. They will be getting all the celebrity contestants to sign the table, which will then be auctioned on ebay, with all proceeds going to Children with Cancer UK. We would like to thank Butterfly for their contribution to this worthy cause.

If you wish to be notified when the table goes up for auction, please email us your contact details. We will then get in touch when the series has ended and the table is up for sale.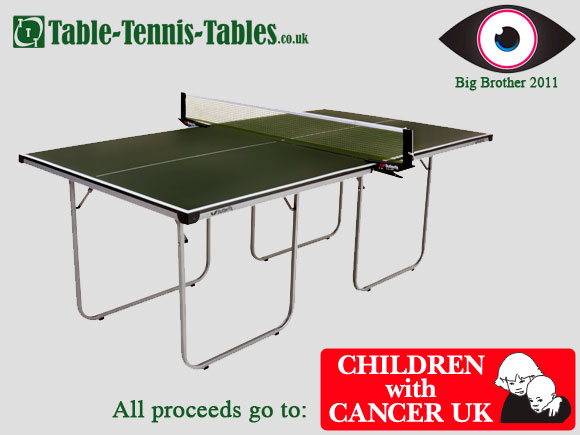 Free Gifts and Charity donation for referrals
We are very pleased to be affiliated with this charity and strongly encourage and support the work they do. Between 13th May 2011 and 15th June 2011 if you referred a friend who subsequently bought a full sized table tennis table we sent you £25.00 worth of free table tennis accessories and £10.00 was donated to the Children With Cancer UK registered charity. We hope to be able to work with them again in the future.

Children With Cancer UK is a British charitable organisation, inaugurated by Diana, Princess of Wales on 12 January 1988, that provides funding for research into the prevention and cure of childhood leukaemia including acute lymphoblastic leukaemia (lymphoid) (ALL) and Acute myeloid leukaemia (AML). It also supports families through welfare programmes and campaigns on their behalf. Children With Cancer UK is a member of the Association of Medical Research Charities and the National Cancer Research Institute.
If you would like to find out more about this wonderful charity and the work they do, Click Here.
Table tennis marathon in Bonn Square hosted by Modern Art Oxford.
We Recently Supported a Table tennis marathon in Bonn Square hosted by Modern Art Oxford. It was a free event that had a very successful turn out. The event was ran by an artistic team Search Party (Pete Phillips and Jodie Hawkes). It took place on Friday 25, Saturday 26 and Sunday 27 November 2011. We supplied a full size table tennis table and were very happy to assist with the event.